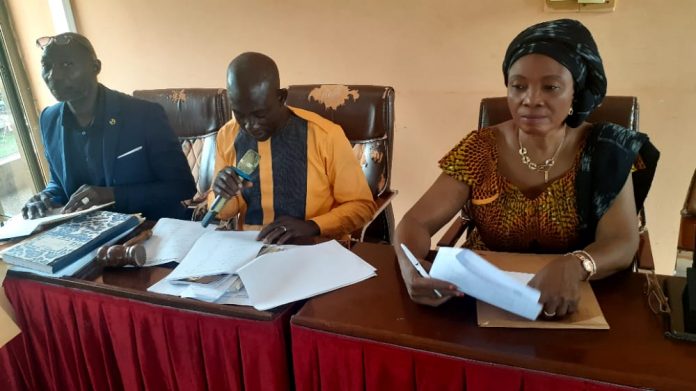 The Bole District Assembly on 22nd June, 2022 held an ordinary General assembly meeting of the 8th assembly as key stakeholders raised concerns about happenings in Bole.
In her keynote address read to the house, the District Chief Executive (DCE) Madam Veronica Alele Heming thanked the Assembly members for their unflinching support over the years.
Madam Veronica Alele Heming also used the platform to inform the house about certain achievements chalked in the course of the year.
She said that under the planting for export and rural development, the District has nursed 40,000 cashew seedlings for free distribution to at least 500 farmers in the district which is expected to cover hundred hectares of farm land.
However, she added that the district is yet to receive subsidies fertilizer for the farmers.
She bemoaned how the District do not do well in Internal Generated Funds (IGF) in the first quarter of the year.
The DCE called for strategies to improve revenue collection to meet the annual target of 380,000.01 cedis.
She touched on the Disability Fund where she said through the Disability Management Committee assorted items such as Computers, white canes, Deep freezers and sewing machines were given to members of the disabled.
Also 17 students from Wa school for the deaf and 3 students at the university level were supported to further their education.
Talking about Trade and Industry, she said the Assembly under the Ghana productive safety net project, led by business advisory center, 161 people were supported to engage in income generating activities in Soap making, Bee keeping, Shea Butter processing and Groundnut.
She further stated that the Assembly Constructed 3No.12-Unit market at Soldier Camp, renovated 4No. CHP Compounds at Mandari, Gbenfu, Seripe and Banda Nkwanta.
She mentioned several achievements in Education and Electricity.
She adviced the general public to be guided about Covid-19 because it was resurfacing as active cases stood up to 1,255.
She warned against another disease called the Monkey pox which has emerged as 5 cases have been reported in Ghana.
Welcoming the Assembly members to the house, the Presiding Member of the Assembly, Hon Jamani Bakari bemoaned recent issues of concern that has to do with the Killings and half burials, minors riding tricycles in town carelessly, teenage pregnancies, poor academic performance and how the Assembly looses revenue due to new temporal structures in Bole.
He appealed to all stakeholders to see to it that, most of the alarming concerns are curtailed for the betterment of the district.
The Presiding Member bemoaned the riding of tricycles by minors in the Bole community which is against the law.
The Presiding called for the lifting of the ban on temporal structures becasje even though there eis the ban people are flouting the ban.
Source: nkilgifmonline.com