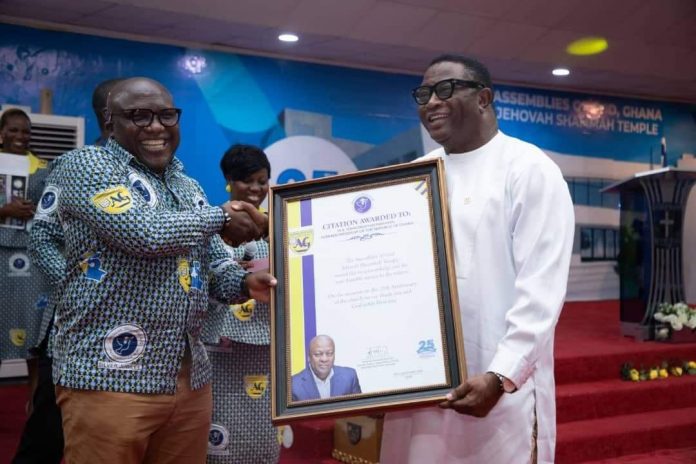 President John Mahama has been recognised for his leadership style of service in humility to the people of Ghana. His Excellency President Mahama was presented a citation by the Assemblies of God, Ghana- Jehovah Shammah Temple at its 25th Anniversary Celebrations.
Representing him at the event were Elvis Afriyie-Ankrah, Dr. Sherry Ayittey and Maame Efua Houdjeto.
The recognition of President Mahama's leadership has been reiterated by many prominent individuals in Ghana, Africa and across the globe. Having served the people of Ghana with empathy, courage, honesty and futuristic patriotism, the record of President John Mahama speaks for itself with each passing day.
The many investments President Mahama made in infrastructure, governance, social policy, energy, education and digital technology continues to project Ghana as the gateway for Africa.
Having led one of the most transformational periods in the history of Ghana, President Mahama continues to exude humility and humaneness. The same attitude he had as President during his four years in Government.
Receiving the citation on behalf of President John Mahama, Elvis Afriyie Ankrah, Dr Sherry Ayittey and Maame Efua Houdjeto were grateful for the award and mentioned that, this recognition by the church further highlights the character of President Mahama that has endeared him to the good People of Ghana.
Source: nkilgifmonline.com