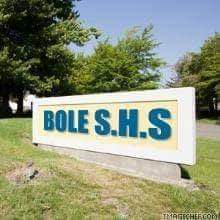 A 2nd Year student of the Bole Senior High School Samuel Addae has been selected to represent Nothern Ghana for the 4th Ghana Science Olympiad (GSO) after placing 12 out of 120 students from the
Northern Zone Senior High schools during the 1st phase of the competition.
As part of the Secondary Education Improvement program (SEIP), the Science Education Unit (SEU) of the Ghana Education Service organised the 4th Ghana Science Olympiad (GSO) in preparation of students for Higher academic performance. The Olympiad is a competition that seeks to nurture in students critical- thinking skills and problem-solving approach to real life situations of interdisciplinary content and relevance.
Two best performing students (male and female) were selected from all schools in in the Northern Zone schools (Northern, Savannah, North East, Upper, West, Upper East and Oti Regions) to represent each school. 120 students took part during the Northern Olympiad with the students ranked with the first 12 participants selected for the next phase.
Samuel Addae of Bole Senior High School was the only student from Savannah region selected for the second phase of the Olympiad after a vigorous competition from 19th November, 2021 to 24th November, 2021.
The students were taken through the syllabus which was sent to all schools.
In addition, there was a test item (questions) on the use of ibox.
The zones of the country are; Eastern Zone, (Eastern Greater Accra & Volta); Central Zone (Central & Western) and Ashanti Zone (Ashanti & Western North).
The rest are Bono Zone (Bono, Ahafo & Bono East) and Northern Zone (Northern, Savannah, North East, Upper, West, Upper East & Oti).
The Bole Senior High School is currently ranked the best in the Savannah Region after the school placed 1st out of 12 Senior High Schools in the 2020 West African Senior School Certificate Examination.
Source: nkilgifmonline.com