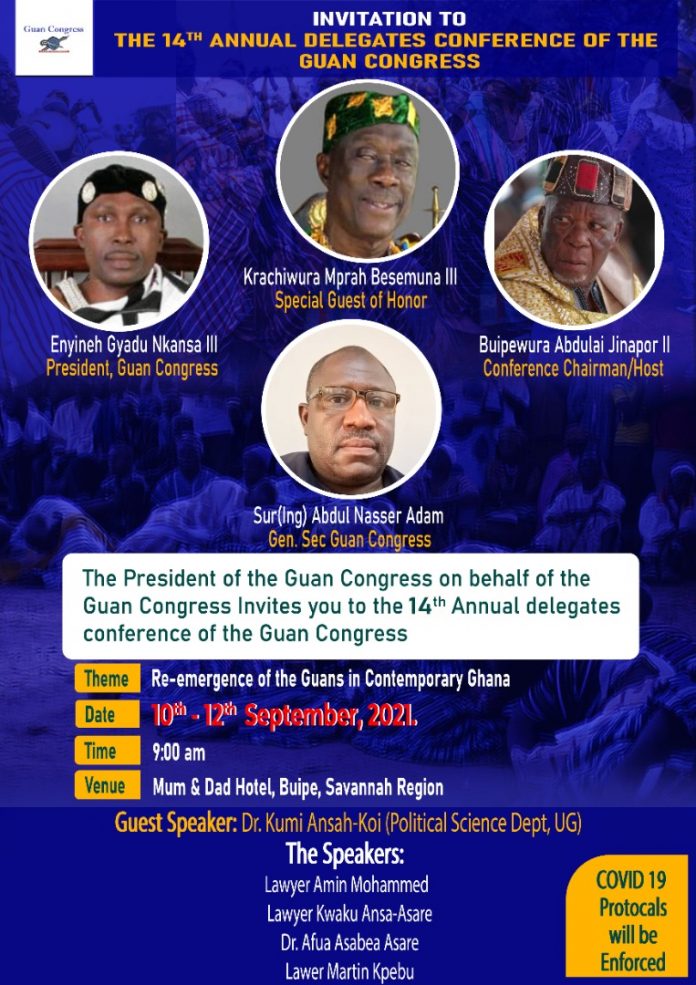 The 14th Delegates conference of the Guan Congress would take place at Buipe in the Central Gonja District of the Savannah Region from 10th to 12th September, 2021, under the theme; "Re-emergence of the Guans in Ghana".
The General Secretary of the Guan Congress Mr Abdul Nasser Adam disclosed to Bole based Nkilgi fm that the Conference will be attended by the President of the Guan Congress Enyineh Gyadu Nkansah (III) and his executives and will be under the Chairmanship of Buipewura Abdulai Jinapor (II).
Abdul Nasser Adam also said the Special Guest of Honour will be Krachiwura Mprah Besemuna (III) with delegates and invited guest comprising Chiefs and Queen mothers, prominent sons and daughters of Guans and representatives of the youth associations from all Guan communities in attendance.
Mr Abdul Nasser said the conference shall be in two sessions; the opening ceremony comprising of the speeches and addresses and the discussions sessions. He said the Guest Speaker at the conference will be Dr. Kumi Ansa-Koi (Political Science Dept. UG) with other speakers to be Lawyer Kwaku Ansa- Asare (Former Director of Law School); Dr. Vladimir Antwi Danso (Dean, LECIA); Ms. Afua Asabea Asare (CEO, GEPA) and Lawyer Mohammed Amin (President of Gonjaland Youth Association).
The General Secretary of the Guan Congress stated that the last meeting of the Guans was in 2012 at Kete-Krachi and so the conference will decide the celebration of the 40th anniversary of the Guan Congress in October or November, 2021.
He further said the aims and ojectives of the conference is to foster unity among the Guan speaking communities in Ghana; to help develop the Guan language and raise them to to written standards; to evolve a common Guan language and to promote and develop Guan arts and culture.
Mr Abdul Nasser explained that; "Beyond the object of cultural renaissance we intend for the development of the Guan economic block which shall seek to tap into the available resources (human resource, natural resource and financial resource) for the development of our communities".
"We need to look at modernizing some of our cultural practices like marriage customs, expensive funerals, inheritance, land tenure systems and our chieftaincy institutions to meet the demands of time".
Mr Abdul Nasser Adam also said; "the proposition of A Guan National Committee on Chieftaincy is highly considered to be charge with arbitration and settlement of chieftaincy disputes within the Guan Committees instead of reverting to the law courts".
The Guans are composed of many ethnic groups and are found in the Eastern Region Volta/Oti Region,
Central Region, Northern Region, Bono East,
Savannah Region. Some Guans are also found in Togo, Benin and Cote D' Ivoire.
Source: nkilgifmonline.com