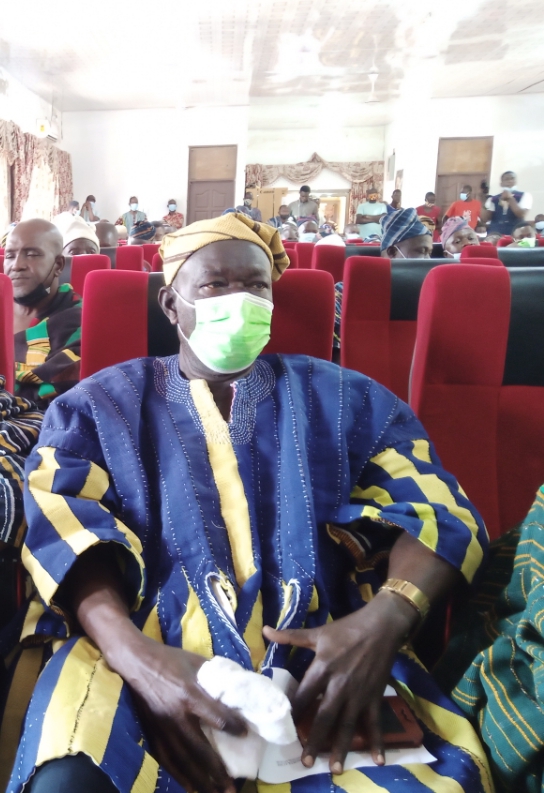 The Paramount Chief of the Bole Traditional Area Bolewura Sarfo Kutuge Feso I and other members of Savannah Regional House of Chiefs attended a Northern regional consultative dialogue on Small Scale Mining and Deforestation at Tamale on 19th July, 2021.
The dialogue under the auspices of the Ministry of Lands and Natural Resources and the National Consultative Dialogue on Small Scale Mining was held in Tamale at the University Development (UDS) auditorium pursuant to the vision of the President of the Republic of Ghana Nana Addo Dankwa Akufo-Addo, to organise a regional discourse to solicit diverse views so as to develop appropriate policy options for the small scale mining subsector.
The Bolewura who is also the Chairman of the Eminent Committee of chiefs for ban on logging, illegal mining and Commercial Charcoal business in Savannah region was a accompanied by a sub Chief of the Bole Traditional Area Tunawura Mumuni Isaac Dramani and the Secretary of Bole Traditional council Mr Abdulai Haruna Obey.
Some members of the Savannah Region House of Chiefs present at the dialogue in Tamale included Kpembewura Bambange Ndefeso IV, Mankpanwura Achu-Ade Borenyi, Kekpandewura k
Kenyiti, Gbempewaa Koro Nnaa Agbaa Jaaga IV and the Registrar of Savannah Region House of Chiefs Mr Abutu Kapori.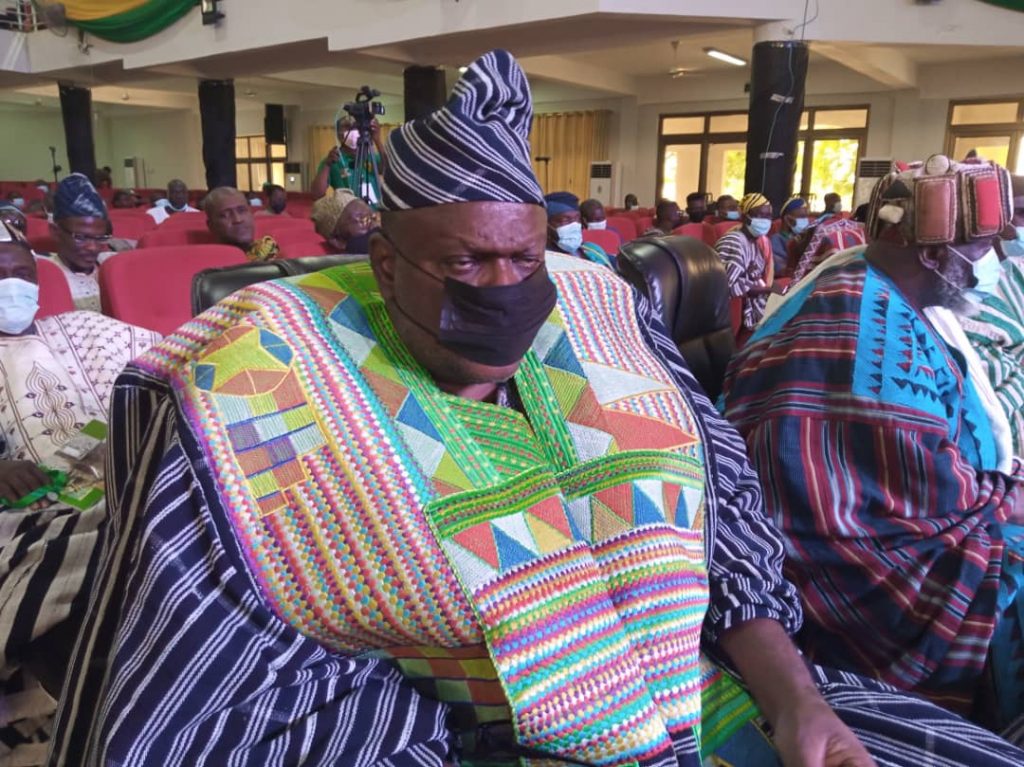 Present at the dialogue, which was opened by the Vice President Dr. Mahamudu Bawumia, were the Minister responsible for Lands and Natural Resources, Hon Samuel A. Jinapor MP, and other relevant Ministers of State as well as duly mandated representatives of Ministries, Departments and Agencies, Commissions, and Authorities.
The Dialogue was also attended, amongst others, by:- all five (5) Northern Sector Regional Ministers; Heads of the Security Agencies; President and members of the Ghana Chamber of Mines; Actors in the Mining Industry; President and members of Small-Scale Miners Association; Members of Parliament in Northern Ghana, both of the Majority and Minority; representatives of all political parties that contested the Presidential Election of 2020; Members of the Diplomatic Corps and Members of academia.
In his open address Mr Samuel Abu Jinapor thanked the participants especially the Savannah Region House of Chiefs for taken a bold step to ban all forms of environmental minance in the Savannah land scape.
Other stakeholders at the Dialogue welcomed Government's initiative to establish the Dialogue to deliberate on issues pertaining to the small scale mining sector with a view to developing a bi-partisan, broad-based and national consensus around a national policy on small scale mining, that promotes a responsible, viable, environmentally sustainable industry which has discarded illegalities and practices which compromise the environment and ecosystem of our country.
The Dialogue acknowledged and commended the quality of the contributions made by various memoranda and reports as well as relevant recommendations received from the general public prior to the Dialogue. It has been resolved that these inputs be considered during the preparation of the final report.
Source: nkilgifmonline.com