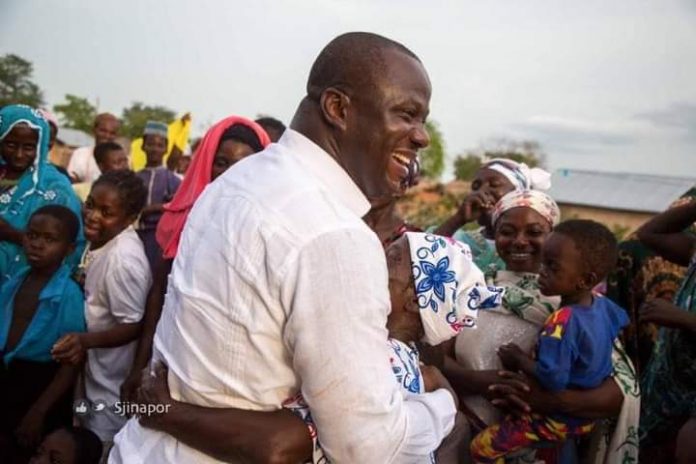 The New Patriotic Party (NPP) in the Damongo Constituency has debunked claims that rice donated by the Member of Parliament (MP) for the Damongo Constituency Hon Samuel Abu Jinapor was for the youth of Busunu who subsequently rejected the rice as seen in a viral video that is in circulation.
The NPP Communication Director for the Damongo Constituency Mr Iddrisu Lamin who led in the distribution of the rice explained that the rice was never meant for the Youth but Chiefs and Opinion Leaders in the Busunu traditional area towards this years Idul- Adha.
He told Bole based Nkilgi FM after it reported on the viral video that because the surrounding communities are many, they rather kept the food items at one of the NPP branch executive's house and started the distribution from community to community only for some of the youth to mobilise and come to demand that their interest is never food but sustainable jobs.
He added that the youth after realising what they did was wrong came back to apologise that their intention was never to make the issue go viral but to register their displeasure which the communication Director still described as a very wrong approach.
He has therefore thrown a challenge to them that he knows a number of the youth in the area who are gainfully employed during this short period of Hon Jinapor as the MP with many of them still in the pipeline.
Nkilgi FM reported that the Youth of Bususu in the West Gonja Municipality of the Savannah Region rejected a number of mini bags of fortuna rice from the MP for the area Hon Abu Samuel Jinapor, who also doubles as the Minister for Lands and Natural Resources.
In a viral video shot by an amateur photographer on 18th July, 2021, one could see some young men throwing back bags of rice that were offloaded back into a Nisssan pick-up with registration number GC 2302-18.
They could be heard saying; "we need jobs not rice" in English language as well as "we are here but you people are selling Jobs"; "no occasion will take place here"; "go and tell Abu Jinapor he is fooling us"; "put the rice back and go away" in the local Gonja dialect.
The pickup could be seen speeding off with shouts of "away! away!"
Source: nkilgifmonline.com