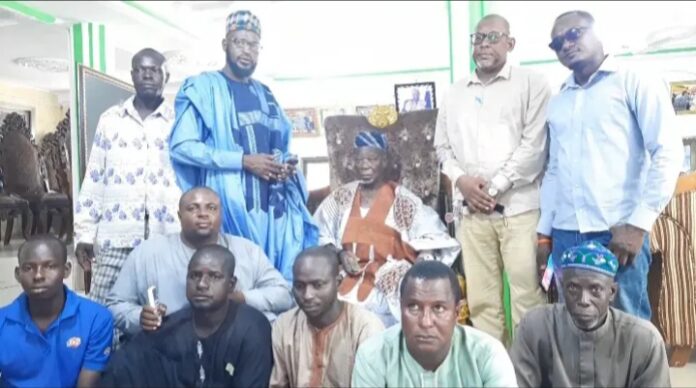 The Paramount Chief of the Buipe traditional area in the of Gonjaland, Buipewura Abdulai Jinapor (Il) has announced the establishment of a Fulani community in Buipe.
The community is to be named Mande, a town in Mali where Gonjas migrated from.
A five-kilometre square of land has been allocated and part of it cleared for development to start.
Buipewura Jinapor ll made the announcement when a Fulani delegation led by the General Secretary of Tabital Pulaaku Ghana paid a courtesy call on him after inspecting a parcel of land he gave them for the establishment of a school.
The Buipewura promised to give Tabital Pulaaku land for a school when the association held its national conference in Buipe last year.
But he has since said there was the need to do more because of the relationship between Gonjas and Fulanis.
He has therefore allocated a 5km square of land for the school, a mosque, market and a settlement.
Buipewura Jinapor (Il) said the land currently occupied by Gonjas in Ghana was conquered by Jakpa their founder with the help of a Fulani Mallam who he came with from Mande in Mali hence the need for them to coexist.
"We all originated from Mali. Mande was the capital for the Gonjas and we were there with the Fulanis who are still occupying it so we are one and we must coexist better."
He said the mosque will be the biggest in Ghana.
"The land is not just for a school, we are going to build the biggest mosque in Ghana and a settlement with a market for Fulanis, so the land is there, any Fulani anywhere in Ghana and beyond can come, build and settle there."
The project, he said will be commissioned at a later date and a committee put in place to raise funds for its development.
For his part, the General Secretary of Tabital Pulaaku Ghana, Yakubu Musah Barry said the Fulani community in Ghana cannot thank the Buipewura enough for the gesture.
According to him, what the chief has proposed is the first of its kind in Ghana and also in other countries where Tabital Pulaaku is operating.
"This is the first of its kind in Ghana and many other countries. We can't be grateful enough, you have shown that we are one and the same people from the same place," he said.
Mr. Barry agreed Gonjas and Fulanis must coexist for the greater good.
"That we are going to have Mande in Ghana and in Gonjaland is more than a joy. We must coexist, work together to develop Gonjaland and Buipewura has shown the way."
He said they will do all they can to support Buipewura Jinapor ll in his development agenda because he is a chief who wants to leave a lasting legacy.
Source: nkilgifmonline.com/opr.news