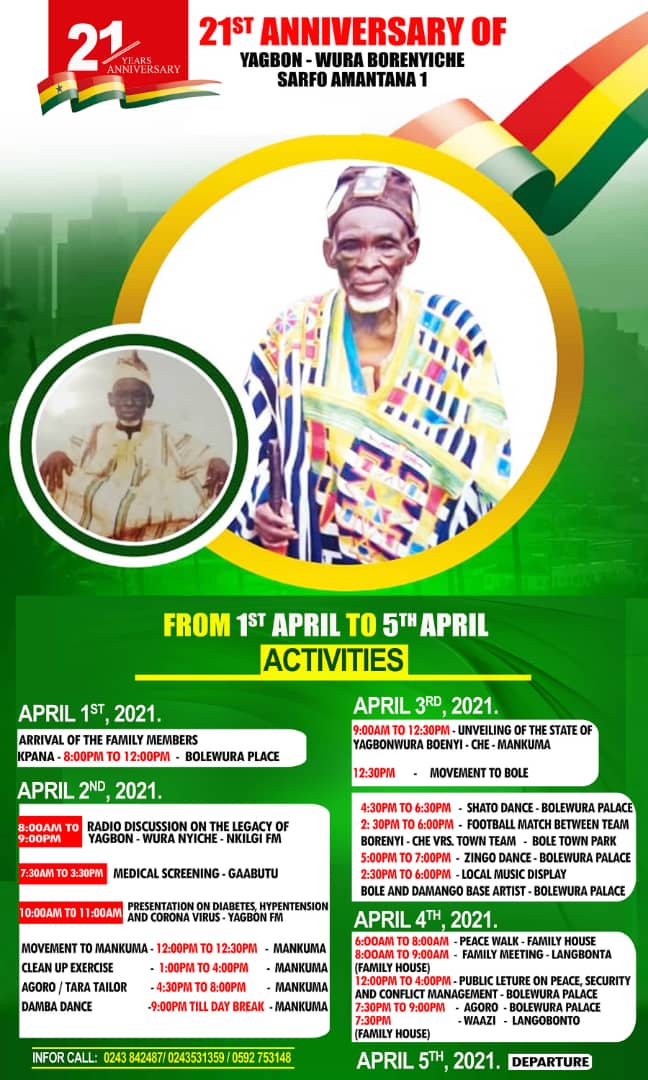 The Safope Royal Gate of the Bole Traditional area of Gonja and the immediate family of the late King of the Gonja State Yagbonwura Borenyinche Safo Amantana will unveil a statue of the King at Mankuma in the Bole District of the Savannah Region on the 21st year Anniversary of the King.
A number of activities have been lined up beginning 1st April 2021 and ending on 7th April, 2021.
The activities for 2nd April, 2021 include a Talk show on the achievements of Borenyinche on the popularly morning show of Bole based Nkilgi FM as well as an afternoon health screening exercise at late BA Saaka's compound popularly called "Agabuto".
The family will kn the same day move to Mankuma near Bole for a Clean Up exercise inside and around the Royal Mausoleum, there will be a performance by Taza Tailor and Damba Dance all night.
On 3rd April, 2021, the statue of Yagbonwura Safo Amantana Borenyinche will be unveiled at Mankuma after which other activities continue at Bole.
At Bole there would be a Football match between Team Borenyinche and Town Team at the Bole town Park. There will also be Shatto and Zinho Dances at the Bolewura's Palace and a Music display by Bole and Damongo based artists at the Bolewura's palace.
The activity on 4th April, 2021 is a peace walk and a family meeting at Langbonto (family House) in Bole.
There would also be a Public Lecture on Peace, Security and Conflict management at the Bolewura's Palace after which Aguro Music display continues.
The activities will be concluded on 5th April, 2021 with family members departing to their various destinations.
Yagbonwura Safo Amantana Borenyinche was born, (exact date unknown) but from sources before the First World War of 1918 to1919.
He was born to Tunawura Amantana who was a brother to Bolewura Tokoro.
While with his uncle (father's brother) Bolewura Tokora, he made friends with some Muslims who were close to the house and who were also traders. He therefore started cattle trade. This trade toook him to several countries – Senegal, Guinea, Niger, Burkina Faso and Cote d'Voire. He therefore learnt to speak Wangara and Moshi with bits of Fulani.
Borenyinche was also a good farmer and was actually among the best three farmers in Bole both in size and produce at time.
The Chieftaincy journey of Yagbonwura Borenyinche started as Nahariwura from 1956 to 1978, Mandariwura from 1978 to 1989 and Bolewura from 1989 to 1993.
Bolewura Safo Amantana ascended the Yagbon throne under the Skin name "Borenyinche" (only God know destinies) and reigned from 1993 to 1999.
Source: nkilgifmonline.com