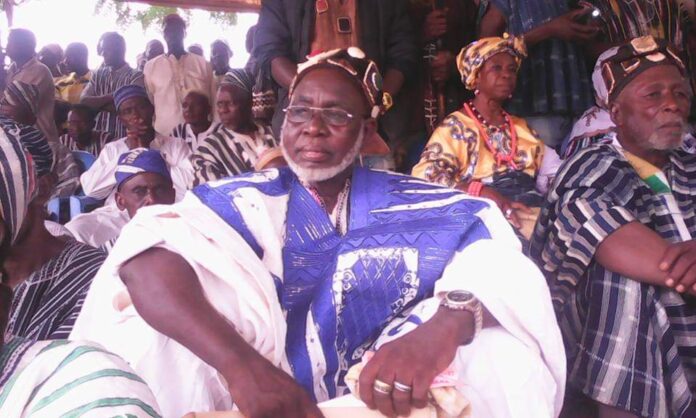 The King and Overlord of Gonja Yagbonwura Tuntumba Boresa (I) has has declared seven days mourning in the entire Gonja Kingdom beginning today 21st January, 2021 after the sudden demise of Kusawguwura Kunkraga (I) "who is the last born of all Paramount Chiefs of the Gonja Kingdom".
A statement issued on 20th January, 2020 by the Registrar of the Gonja Traditional Council and copied to all Paramount Chiefs and media houses said the burial ceremony of the late Kusawguwura has been performed on Wednesday 20th January, 2021 at Kusawgu according to custom and tradition of Gonja.
The statement from the Registrar of the Gonja Traditional Council further said the funeral rites of the late Kusawguwura will be communicated to all Paramount Chiefs and the people of the Savannah Region in due course.
According to the statement "the Yagbonwura entreat all Paramount Chiefs to relay this important information to their subjects to adhere to this directive to mourn the late Paramount Chief".
Brief History of Kusawgu Skin of Gonja
Kusawgu means 'obtained through war'; (Nko- Nsor) in Gonja. Legend says after Ndewura Jakpa had conquered so much land he distributed it among his sons. He did not however allocate any to his youngest son, the first Kusawguwura; rather he had asked him to join any of his older brothers of his choice.
Kusawguwura realising his position got himself an army and fought till he conquered what is now Kusawgu.
Kusawgu Mahama Jakpa (Yagbonwura Mahama Pirku) is said to be the founder of the modern Kusawgu division of Gonja. Danyagri his brother was made Kusawgu Chief after him. On Danyagri's death, the sons of Yagbonwura Mahama Pirku took up the Kusawgu Chieftaincy titles. These four sons are the founders of the gates of Kusawgu and Yapei chiefship.
The Kusawguwura is therefore appointed from the royal families or gates of Soalepe, Adamape, Jakpape and Wayope. Soale, Adama, Jakpa and Wayo, being the respective ancestors of these lineages, were sons of Yagbonwura Mahama Jakpa (Pirku).
Previously, chiefship of Kusawgu rotated among the candidates from these four gates without any candidate having necessarily to hold a previous title as qualification.
A Prince could obtain the chiefship of Kusawgu without first becoming a sub-Chief but that was changed after a Gonja Traditional Council meeting was organised in Daboya in the Wasipe Traditional Area in 1933. Among the decisions taken was making Yapei the 'route' to the Kusawgu Skin.
The Kusawgu Skin of Gonja is one of the five divisional skins that ascends the Yagbon Skin of Gonja. The rest are Wasipe, Kpembe, Bole, and Tuluwe.
The current Yagbonwura Tuntumba Boresa (I) ascended the Yagbon Skin from Kusawgu.
Source: nkilgifmonline.com