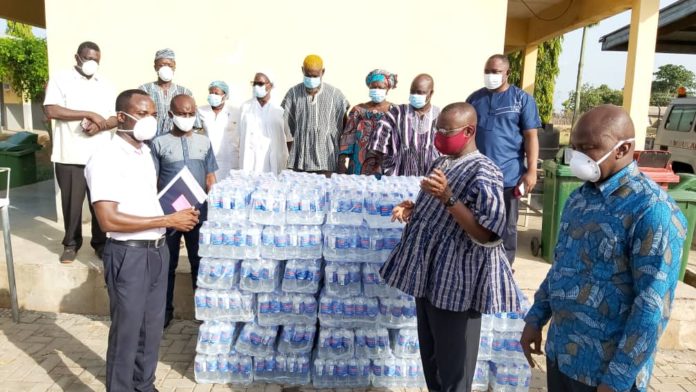 The Minister of the Savannah Region Hon. Salifu Adam Braimah on 28th April 2020 donated 100 cartons of bottled water produced by Ghana water Company Ltd to the West Gonja Municipal Catholic Hospital at Damongo in fulfilment of  President Nana Akufo-Addo's commitment to creating a conducive working environment for health workers in the light of COVID-19. 
The gesture which according to the minister was executed under the aegis of Ministry of Sanitation and Water Resources through the Ghana Water company Ltd is to further complement existing efforts of Reduction of Water and Electricity tariffs and also motivate the staff who have been working assiduously in the wake of the COVID-19 pandemic. 
Hon. Salifu Adam Braimah who was accompanied to hoapital by the Deputy Savannah Regional Minister Hon. Samuel Yeyu Tika, the Regional National Disaster Management Organization Coordinator (NADMO) coordinator Mr. Mohammed Tohir and the Regional Director of the Youth Employment Agency (YEA) Mr. Mahama Akati Raphael thanked management of the hospital and urged them to keep giving out their best for God and country.
The Medical Superintendent at the hospital Dr. Vitalis Saadaare Anlaagmen on behalf of management thanked government for the numerous interventions since the emergence of COVID-19 . He further thanked the minister of the Savannah Region for always availing himself anytime his services are required. The offer according to Dr. Vitalis will go a long way to help them in this times. 
Source: nkilgifmonline.com