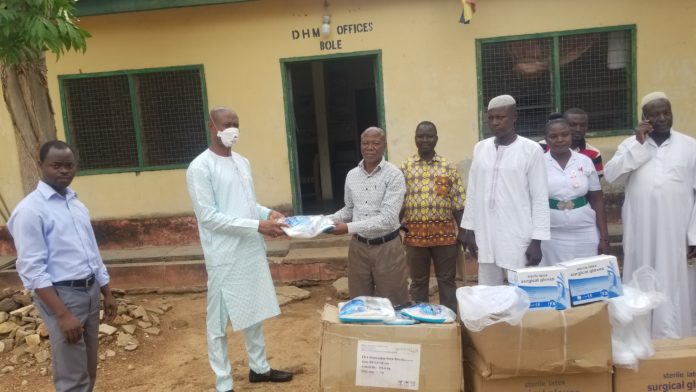 Former President and flagbearer of the National Democratic Congress (NDC) John Dramani Mahama has donated 25 packs of Personal Protective Equipments (PPE's) which have sanitisers, 25 Gum boots and 20 Surgical gloves to the to the Bole District Health directorate on 8th April, 2020 to contain the deadly Coronavirus.
The donation which was done on former President John Mahama's behalf by the Member of Parliament (MP) for the Bole-Bamboi constituency Hon. Alhaji Yussif Sulemana, was received by the Bole District Health Director Mr David Bakuri and some staff of the Bole District Hospital 
The MP in his brief remarks during the donation said former President John Dramani Mahama evem though s still donating to the Regional Directorates which Bole may still have theirs through the Regional Health Directorate of the Ghana Health Service, but he has taken it upon himself as a son of the land to provide the logistics to help the front liners to combat the COVID-19 in the Bole district.
The MP said there are complains that the Nsunia Community near Mandari has been a route for some people passing in and out Gnanawithout going through quarantine.
Alhaji Yusif  Sulemana appealed to stakeholders to consider forming a local taskforce to make sure who ever comes in through that route will be forced to pass through quarantine. He suggested the task forces should be remunerated. 
Speaking to Nkilgi FM after the handing over of the items, the Bole District Director of Ghana Health Service Mr David Bakuri thanked former President  John Dramani Mahama for his kind gesture. He said though what the former President has supplied can help battle the deadly virus they still need more as "like Oliver Twist" to make sure the have more than enough to withstand the virus.
Source: nkilgifmonline.com