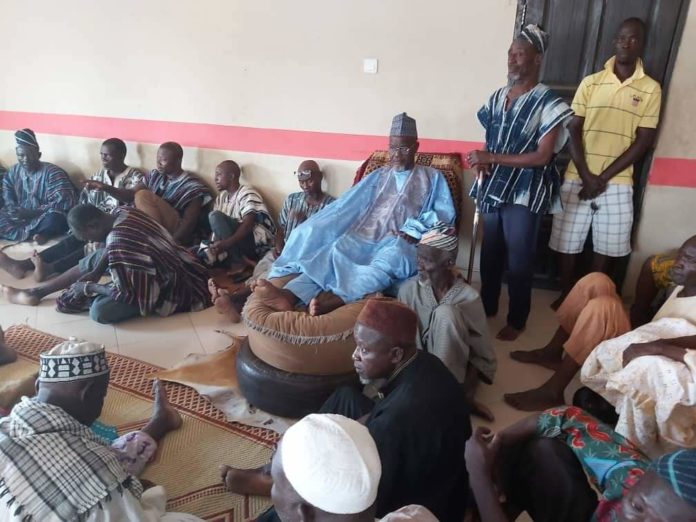 By Musah Asafo Mahama
At a time the world over stands in absolute  unanimity against a rampaging common enemy, the covid-19, and our dear nation Ghana, frantically endeavours in readiness  to battle this deadly pandemic, the chief of Tolon in the Northern Region is busily preparing to launch an attack on Wasipe (Daboya) Traditional Area in the Savannah region.
Intelligence picked on the ground point to a plan to attack and annex about six communities under the rulership of the Wasipe Traditional area. These communities include, Sisipe, Tidrope, Kuturbanchie, Kagbal, Guo and Kito. 
It must be noted, that Tolon Naa Major Sulemena has over recent times assumed notoriety for unjustifiably spitting fire and throwing about threats of invading the aforementioned communities. The difference is that this time around, he has taken his threats to a whole new level. This is clear from the evacuation of the Dagomba settler farmers in these communities to make way for the imminent attack and destruction of homes and property.
It is worth noting, that the people of Wasipe, being warriors by nature and training have in the past acted with maturity and responsibility by not playing along this alarmist, empty  and war mongering voice of the Tolon Chief. With the prevailing examples of  commendable developmental strides chieftaincy is making in some societies in Ghana, a Chief of a poor community such as Tolon must be busy learning how to be an agent of development and not a beater of war drums.
Indeed the Wasipe and Tolon had always been friendly neighbours united by marriage and their limited sources of  livelihood. However,the emergence of Major Rtd Sulemana as the Chief of Tolon birthed an ueasy era of pointless and unprovoked  hostilities between Wasipe and Tolon. His incessant threats  has left the bothering areas between Tolon and Wasipe very much a hot spot for communal voilence over the years. 
A very worrying observation is that these threats of attacks by Major Sulemana are always made whenever the New Patriotic Party (NPP) is in government. This has led many to wonder if in deed he is been used by some unseen hands in this government to forment needless trouble in the Wasipe traditional area.  
The relevant authorities must rise up and call Tolon Naa Major Sulemana to order or risk watching one man plunge many communities into blood shed and destruction of property.
The people of Wasipe and Tolon alike are peaceful and law abiding people united in poverty and underdevelopment. The harrowing and long standing effects of conflict in some parts of the Northern Ghana is very fresh on our minds. 
While we are caught up in the potentially deadly war against the coronavirus, we cannot allow backward elements among us divide our ranks and render our front vulnerable to mass attacks. 
Let peace reign now by bringing Tolon Naa Major Sulemana to order or watch Wasipe defend itself with everything it has.
7th April, 2020.