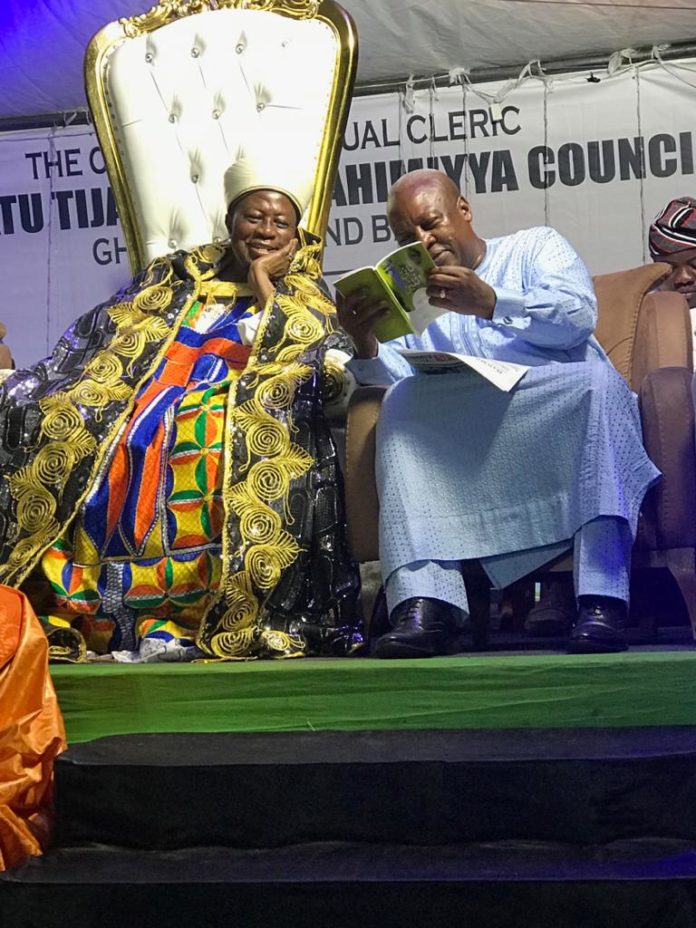 Former President, John Dramani Mahama on the night of Saturday 14th March, 2020 joined Sheik Salisu Shaban, one of the leading Islamic Clerics in Ghana to observe the Maulid of Maulana Sheik Ibrahim Nyass (Rta). The occasion which brought Muslims from all over the country was used to tell the good works of Sheik Ibrahim Nyass.
Former President Mahama, who was the Guest of Honor urged Muslims to emulate the lifestyle of Sheik Ibrahim Nyass and also advised Muslims especially the youth not to be used to disturb the peace of this nation in view of the upcoming elections. He used the occasion to talk about the Coronavirus and how we should seriously take the precautionary measures outlined by our health authorities.
The former President was joined by Ambassador Saeed Sinare, National Vice Chairman, Alhaji Cole Younger; National Zongo Caucus Coordinator, Hon Yusif Jajah, Alhaji Mustapha Abubakar and Horoya Ali.
Source: nkilgifmonline.com