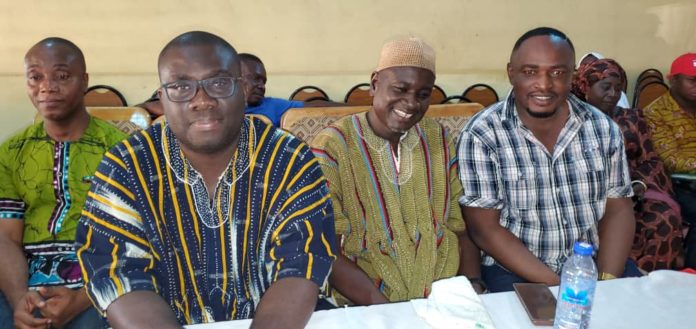 The New Patriotic Party (NPP) Chairman for the Savannah Region, Alhaji Iddrisu Sulemana affectionately called Proff Kalamonia has promised to win all the seven seats in the region for the NPP.
Proff Kalamonia made these comments after a meeting with party executives at Damongo attended by the National Organiser of the NPP Sammy Awuku on Tuesday 5th November, 2019.
The Savannah Region NPP Chairman urged members of the party to help bring onboard sympathisers of the NDC and all other sister parties to the NPP since that will solidify the base of hthe party towards victory 2020.
Mr Sammy Awuku before the executive meeting took turns to interact with Artisans, Masons, Teachers, Nurses and others in Damongo during his one day visit to the region to listen to their concerns to help find solutions to them.
He further used the occasion to call on the people of the Savannnah region to Vote 'YES' on the 17th December, 2019, referendum to bring development to the doorstep of the various Metropolitan, Municap and District Assemblies MMDA's) as promised by President Nana Akufo-Addo.
Sammy Awuku commended the executive body of the NPP in the Savannah Region for the good work they are doing in the region and encouraged them to do more since victory is their ultimate goal in the 2020 election.
Professor Kalamonia and many of the regional executives took turns to speak to the various unions during the meeting and assured them of the commitment of the party to make the Savanna Region and Ghana as a whole very prosperous nation for the Citizenry.
Source: nkilgifmonline.com