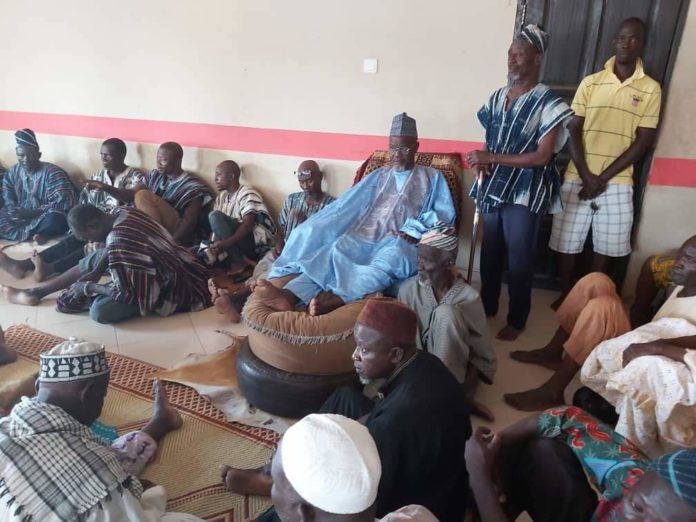 The Chiefs and People of the Wasipewura Traditional Area of the North Gonja District of the Savannah Region are asking the Inspector General of Police (IGP) if there has been an investigation and arrest of those involved in the case of 59 AK 47 Assault Rifles that were being smuggled to Walewale in the West Mamprusi District of the North East Region.
Addressing a Press conference covered by Bole based Nkilgi Fm at Daboya in the North Gonja District of the Savannah Region yesterday Monday September 9, 2019, Chief Gbonapowura Mahama Saakan who spoke on behalf of the Paramount Chief of the Wasipe Traditional Area, Wasipewura Mumuni Anyame Kabasagya said 59 Assault Rifles were seized at a suburb of Accra called Ablekuma enroute to Walewale as reported by an Accra based Radio station Joy Fm on Friday 30th August, 2019 and asked if there must be some power behind the acquisition and shipment of such powerful rifles.
Gbonapowura Mahama Saakan who was a Member of Parliament (MP) for the area said the silence of the Inspector General of Police and National Security is not healthy for Ghana's security and development and that Ghanaians and the whole world must know so that Ghana does not experience the Rwandan type genocide.
"These weapons without doubt are meant to annihilate Gonja folks in Wasipe already made known by a Chief from Mamprusi called Sonaba; these weapons we suspect were being shipped to Janga ostensively to be moved to Wasipe to fight, kill and occupy Daboya and its environs"; the Chief alleged.
The Chiefs and People of Wasipe Traditional Area in Gonjaland said the Sonaba recently incited war between his own brethren in Lukula over the siting of a Mosque during which lives were lost and hundreds of people displaced as part of his agenda to expand his territory and his annexation propaganda before the referendum for the creation of new Regions including the Savannah and the North East Region.
"We do not want to believe that Toibu Abdul- Rahman and his friends have on several occasions promised the Tampulma and Mamprusi Settlers in North Gonja of Gonjaland that certain personality would help carve out of North Gonja and add to Mamprugu should the New Patriotic Party (NPP) win the 2016 Elections"; the statement from the Wasipe Chiefs and people said.
"We want to make it clear here and now that Gonjas are warriors and will always ramain warriors. Let be known that weapons are only tools used in fighting but the actual fighter is in the man"; he emphasised.
He said Gonjas acquired their vast land by conquest and are still prepared to fight on land, on water and in the air to maintain every inch of it without fear.
"Should Sonaba dare us with war, we shall resist and fight him with the fiercest force yet unparalleled in history" Gbonapowura who is known to have a very deep voice thundered.
Gbonapowura Mahama Saakan finally called on the IGP, National Security and all peace loving people of the world to speak to this issue of proliferation of offensive weapons (AK 47 Assault Rifles) and the chanting of war songs by Sonaba who is doing so with impunity.
Source: nkilgifmonline.com