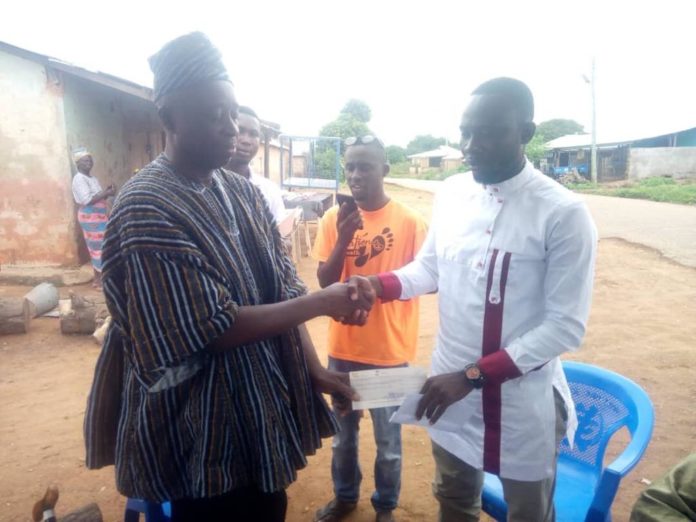 The MP for Damongo Constituency, Hon Adam Mutawakilu Garlus has redeemed his pledge made to the Canteen Yaara Development Association. This he made during the Annual Home Coming of this noble association. The MP has handed the Association a cheque of Five Thousand Ghana Cedis (GHC 5000) as was promised. Hon Garlus has used the occasion to throw a challenge to his political opponents since they are in government and therefore have access to limitless opportunities and taxpayers money, to endeavor to invest their financial resources into education since that is the most single venture of developing and raising the human resource base of the Damongo Constituency.
On education in general, the MP since 2017 has expended a Hundred and Thirty Thousand (GHC 130,000) package in the payment of schools fees of students across all levels and expenditures on other education related programs and activities. Some of the programs/projects/activities include:
-Annual financial support to students for the payment of their fees and other academic related expenditures.
-Launching of an award scheme for the 3 best BECE students and the best school. This took effect in the 2017/2018 academic year. The program is slated to continue in this 2018/19 academic year.
-launching of a financial package to support CAMFED for onward support to needy but brilliant girls in the West Gonja District.
-financial support to the Bishop of the Damongo Diocese's educational foundation
-Continuous Support to Spelling Bee competition amongst the JHS in the District.
-Support to the Sports department of both DASS and NDESCO; in all, 15 sets of jerseys were purchased and some amount of cash was added for all the houses in these schools
-Delivery of jerseys and balls to some selected JHS in the Constituency.
Some of the programs/projects are:
-Construction of a 6 unit classroom block and a KG block for Soalepe (GETfund). The KG block is completed and ready for use while the 6 unit classroom block is at roofing stage.
-Lobbied and secured 8 scholarships for students in Maths, Science and energy related areas. Two of the students are PhD, two are ladies and the remaining are male undergraduate students.
-Lobbied and secured 60 computers for 4 schools (Canteen JHS, Busunu D/A JHS, Laribanga JHS and Kananto JHS). He has since sponsored 2 ICT teachers to undergo a three weeks training awaiting the installation and commencement of these facilities.
The MP has always pledged to concentrate more in the human resource development while calling on the government through its local assembly and its associated agents to also concentrate on providing strategic educational, health and economic infrastructures that will serve as growth poles for the benefit of the people of the Damongo Constituency.
Reporter by Issifu Seidu Kudus Gbeadese
(RA, Office of Parliament)