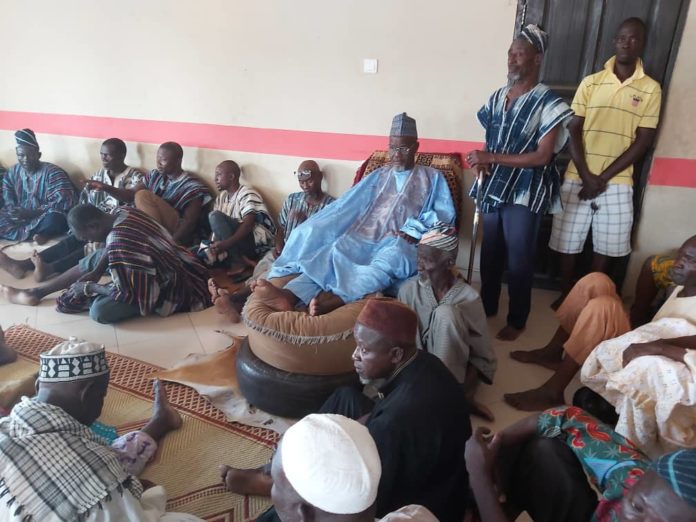 The Wasipe Traditional Council has banned four people from entering Daboya and its environs for constantly making ethnocentric comments within the Tampulma and Mamprusi communities which are under the authority of Wasipe traditional Area before and after the creation of Savannah Region.
The four banned from Daboya the capital of the North Gonja District and traditional headquarters of the Wasipe Traditional Area are Yakubu M. Mabruk who is the National Democratic Congress (NDC) Youth Organiser for the Daboya-Mankarigu constituency; Shaibu Abdul-Rahaman who is a former Assemblyman for Lukula Electoral Area of the North Gonja District; Bugri Musah the Chairman for Tampulma Youth Association and one Bugbila Muniru from Lingbinsi in the North Gonja District.
Speaking to Bole based Nkilgi on behalf of the Paramount Chief of the Wasipe Traditional Area, Wasipewura Mumuni Anyame Kabasagya (I), Manbol-wura Adam said Gonjas have lived peacefully with Tampulmas, Mamprusis, Hangas and other minority groups in the Wasipe Traditional Area (North Gonja District) but the activities of the four people has the potential to plunge the area into a full blown ethnic conflict hence the Wasipe Traditional Council having a series of deliberations and consultations before taking the decision.
He said any individual or group of persons who wish to be part of the North East Region (mainly made of Mamprusis) or any other region can pack and join them and allowed peace to prevail in the North Gonja District and the Savannah Region as a whole.
Manbol-wura Adam said Gonjas and for that matter the Wasipe Traditional area has no hand in the recent clashes between two Mamprusi factions at Lukula which resulted in the death of two persons and burning of scores of houses and other properties and that it as a result of the citing a Mosque in that community. He urged the Savannah Regional Security Council to get the perpetrators arrested for the law to deal with them without fear or favour.
Manbol-wura Adam further warned politicians to stay away from ethnocentric comments during their campaigns, especially within the two major political parties, the NDC and NPP because the Wasipe traditional authority will equally deal with any politician who indulge in ethnic politics and any action is meant to safe guard peace in the area.
Source: nkilgifmonline.com