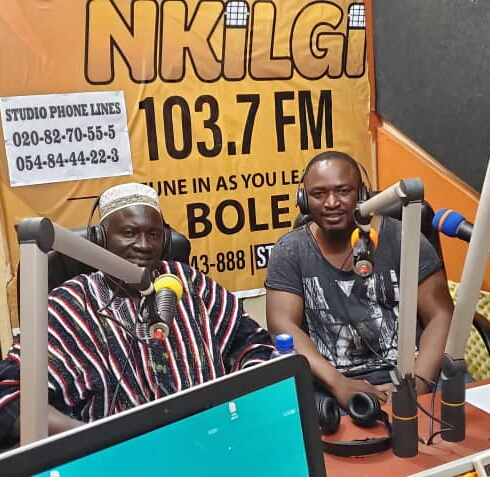 Thousands of listeners of the popular Bole based Nkilgi FM were left disappointed after the Savannah Regional Chairman of the New Patriotic Party (NPP) Alhaji Iddrisu Sulemana popularly called Professor Kalamonia and the Youth Organiser of the NPP in the region had denied listeners of the station the opportunity to contribute to a live radio program on Saturday.
The Chairman who had made several allegations about former President Mahama had to stop the host Braimah Sakara Dauda aka Commander from picking calls from the listening public after a political programme and listeners for the first time found that unbelievable since the inception of the station.
The NPP Chairman for the Savannah Region Proff Kalamonia and the NPP Regional Youth Organiser for the Savannah Region bought 30 minutes airtime on Nkilgi Fm on Saturday night and had some hard words for former President John Dramani Mahama by lambasting him for not doing enough to develop Gonjaland even though he was MP for the Bole- Bamboi Constituency for 12 years, Deputy Minister, Minister, Vice- President and President of Ghana and asked what he was coming to do for Gonjaland.
Proff Kalamonia said John Dramani was Deputy Minister of Communication but he could not give Bole people television network until an NPP government came in 2001 to do that and that John Mahama as Vice- President and President could not give Gonjas a region they yearned for until President Nana Akufo-Addo came to do that in just two years of being in power.
Proff Kalamonia said Gonjas owe President Nana Akufo-Addo and that what Gonjas need to do to pay back is to vote for him. He said KA Busia was President for only two years but developed Wenchi and that Tumu is a well developed town because Hilla Liman who ruled for only two years developed the town.
The NPP Chairman also said John Dramani Mahama is a citizen of Gonja but he never did anything for Gonjaland and that it took President Nana Akufo-Addo to create a region for Gonjas and it means President Nana Akufo-Addo loves Gonjas than former President John Dramani Mahama. He said even though most of the Eastern Corridor of the then Northern Region had NPP MP's and demanded for a region the President still went ahead to create a Region for Gonjas.
He said former President John Dramani Mahama should have created a Region for Gonjas when he was President but he refused and so should not be trusted.
He called on the people of Gonjaland to vote for President Nana Akufo-Addo in the name of God. He said Nana Akufo-Addo has sown a seed for growth in Gonjaland and so Gonjas should vote for me.
A weekly NDC programme every Saturday called 'Ghana Gben' (Ghana is Tired) came up next and the Panelists Haruna Abudulai Obey and Haruna Jakala had some harsh words for Proff Kalamonia describing all what he said as lose talk and do not deserve to be a Regional Chairman of a political party. They enumerated the many developmental projects John Mahama brought the Gonjaland explaining that after the creation of the Savannah not even a single project has been put up and that a pickup for the office of the Savannah has been stolen which in itself mean Proff Kalamonia and his people are failures.
Listeners of Nkilgi people fm had the chance to phone in during the 'Ghana Gben' programme and used unpalatable words on Proff Kalamonia and the NPP Regional Youth Organiser Raphael Mahama Akati making the work of the host difficult.
Zion Abdul-Rauf, Damongo/ nkilgifmonline.com