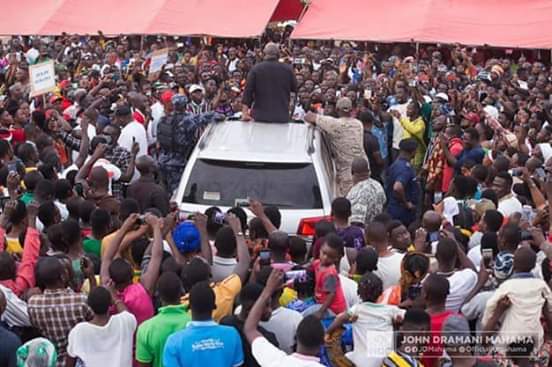 Former President and Flagbearer of the National Democratic Congress (NDC) John Dramani Mahama received perhaps the biggest welcome to his home Region with very huge crowds mopping him where ever he went during his tour of the Savannah Region.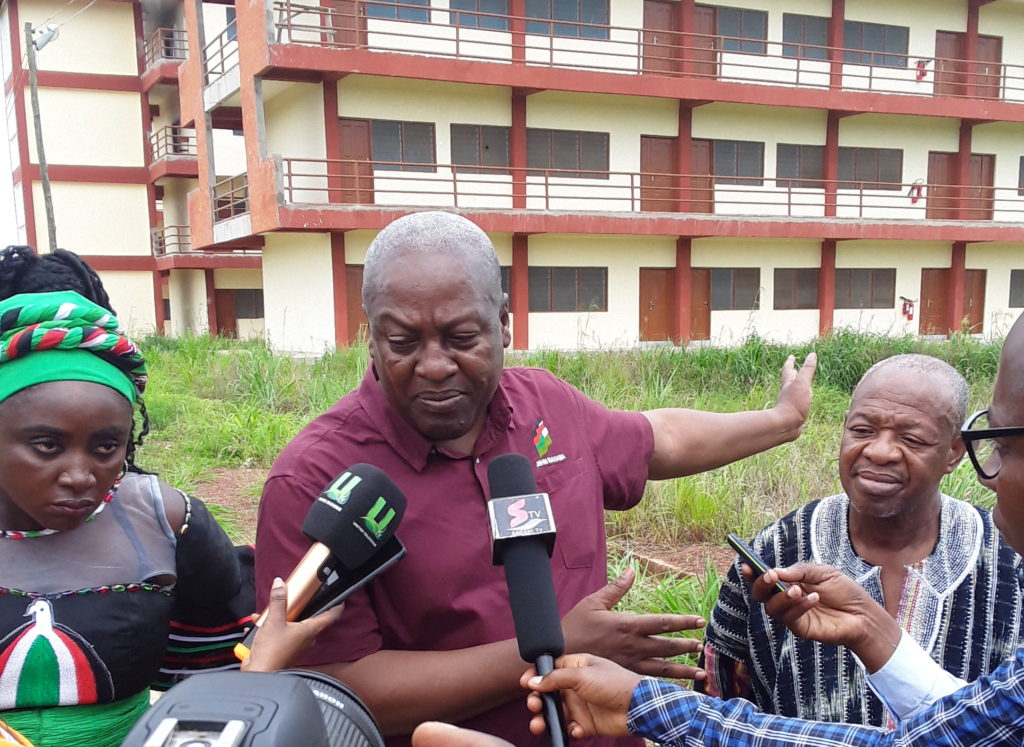 The former President interacted with Chiefs, opinion leaders, community members and executives of the NDC in the various communities visited. He was at Mankpan and Mpaha in the Central Gonja District; Busunu and Damongo in the West Gonja District; Daboya and Lingbinshi in the North Gonja District;  Gindabou, Gbiniyiri and Sawla in the Sawla-Tuna-Kalba District and Banda- Nkwanta, Mandari and Bole in the Bole District.
Former President John Dramani Mahama after touching down at the Tamale Airport on Tuesday 27th August, 2019 went straight to Mankpan in the Central Gonja District where he was enskinned as 'Borenasawura', a Gonja title which means 'Gods Gift Chief'.
At a short ceremony at the Mankpan palace as part of his two-day-tour of the Savannah Region, the Mankpanwura conferred the chieftaincy title on the former gentleman as a recognition of his contributions to the development of the area. He moved tp Mpaha ro interact with the Chiefs and people in the arwa and visited an abandoned Senior High School project. He bitterly complained to the media on how the school has been abandoned and that the situation is across the country where schools, hospitals and other projects have been abandoned. 
The former President visited his late mothers grave at Busunu in the West Gonja District and as well interacted with the Busunuwura of the on his way to Daboya.
Former President Mahama was at Daboya and Lingbinshi in the North Gonja District to interact with the people after which he moved to Damongo capital of the Savannah Region where he was warmly welcomed by an enthusiastic crowd.
At Damongo the former President and his team went straight to the Palace of the King and Overlord of Gonja Yagbonwura Tuntumba Boresa to pay a courtesy call on him after which he went to the Damongo Lorrry Park for a programme to inaugurate Regional Committees of the NDC at the Damongo Lorry park.
Speaking to a mammoth crowd the former President Mahama mocked the NPP government ny saying the streets lights which his government installed in Damongo are off because the NDC is out of office.
The Member of Parliament (MP) for Damongo, Hon Adam Mutawakilu Garlus speaking to the charged crowed said John Mahama's goverment brought massive developmental to Damongo explaining thw park they are having the programmewas constructed by the NDC government.
Still at Damongo, the NDC General Secretary Aseidu Nketia sworn in all the Savannah Regional Working Committees of the Party at the Regional Capital, Damongo. 

The NDC General Secretary Aseidu Nketia handed over two cars to NDC Executives at Damongo. He said a Renault Duster saloon car donated is for the Secretary to do his administrative work and a Nissan Pick for Field work.
Former President Mahama continued his tour of the Savannah Region in the Sawla-Tuna-Kalba and Bole Districts on Wednesday 28th August, 2019.
His first point of call was at Gindabou where he interacted with the chiefs and people of as part of his tour of the Sawla-Tuna-Kalba District of the Savanna Region. 
Mr John Dramani Mahama spoke on the bad nature of the road of the Sawla to Tuna road and promised to fix it when he comes back.
He said the NDC will always tell he truth and that they will always do whatever they promise and that politics is not about telling lies to wim power.
The Paramount Chief of the Kong Traditional Area Kongwura Seidu Jinkurge assured former President Mahama of massive support from his people and said even trees will come out and vote for the former President in the 2020 election.
Former President Mahama then moved to Gbiniyiri in the Sawla-Tuna-Kalba District to interact with the people.
From the Sawla-Tuna-Kalba District, the former President went to the Southern part of the Bole District at Banda- Nkwanta in the Bole District District where he met the Chiefs and the Imam separately and then to the Banda- Nkwanta park where the crowd was so thick that he could not get down from his vehicle.
At Bole there was a charged crowd that welcomed former President John Dramani Mahama at the NDC office where he had a brief meeting with party leaders ans also inspected a fully furnished party officw for the Bole- Bamboi constituency.
On his way to the North East Region of Ghana on Thursday 29th August, 2019, former stopped over at Larabanga in the West Gonja District where there was a Quranic recitation for him at the instance of the Imam of Laribanga.
Source: nkilgifmonline.com,