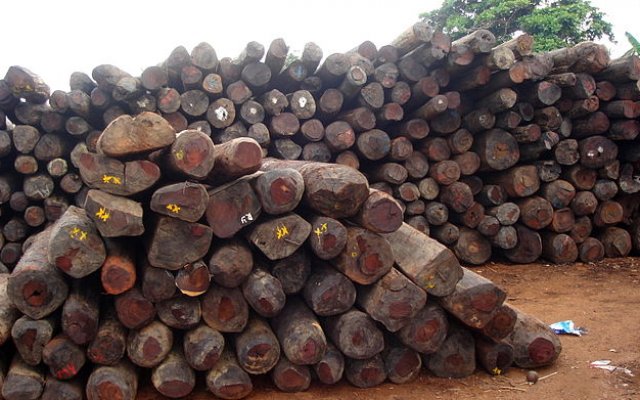 The Police command in the Savanna Region intercepted a truckload of Rosewood at Damongo at about 4 p.m. on Tuesday, 20 August 2019.
The government of Ghana has placed a ban on the felling and exportation of the timber species considered to be under threat of becoming extinct.
The truck was loaded with the illegal cargo at the Brivywell wood firm at Yipala in the West Gonja district of the region.
Following the impoundment, the government has hinted at assuming full control over the operations of the Chinese firm.
Community members together with operatives of the Bureau of National Investigations (BNI) busted the truck driver en route to Tema with the consignment.
The company had been directed by the authorities to cease operations until further notice following the ban.
Speaking to Nkilgi Fm's correspondent for Damomgo Zion Abdul-Rauf , the West Gonja Chief Executive, Hon Muazu Saeed Jebreel who confirmed the arrest, said: "We thought that we had come to an agreement with them [to stop] … Unfortunately, this is what has happened and we are going to take over the place if they wouldn't go by what we understood by each other".
He said the matter has been referred to the Regional Security Council (REGSEC) and they will "seize the logs from them".
The Environmental Investigation Agency (EIA), an environmental group said in a report that Rosewood felling and export has been taking place with about 6 million Rosewood trees having been cut and exported to China since a ban in 2012.
The demand for Rosewood in China is very high due to its aesthetic use in making high-end imperial-style furniture in the Asian country.
A few months ago, another Chinese national, Helena Huang, was arrested for illegally logging large quantities of Rosewood. She was later deported in June 2019 to her home country.
Source: Zion Abdul-Rauf/ nkilgifmonline.com