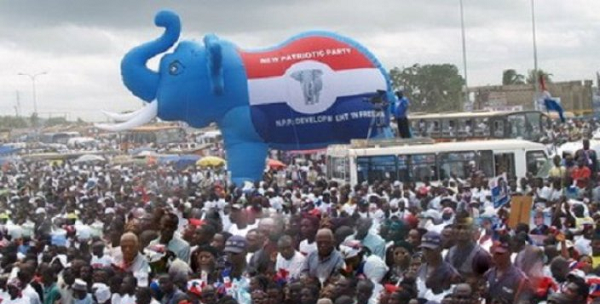 Although I do not regret supporting and voting for Akufo-Addo , I cannot remain silent whilst he sinks the NPP ship. I still hold him in high esteem but the plain truth is that Akufo-Addo is not in control of the government we spent our personal resources, time and sweat to bring to power.
Despite the massive support Nana and the NPP got across the country, it has not done enough to bring hope to the people.
My expectation just like many who travelled from afar to support the campaign, and those here who defied all odds to campaign vigorously for the party was that our government will reciprocate our regions with laudable projects and reduce corruption but unfortunately the government is being under control of few selfish and corrupt individuals who never mounted our campaign platforms or openly projected the NPP.
Many of our staunch supporters are becoming frustrated and rethinking the roles they played prior to the 2016 election amid increasingly excruciating economic crisis and massive corruption rocking the nation under our government.
For a government that campaigned on corruption and came to power to fight corruption, many Ghanaians including those outside the jurisdiction consider illegal procurement deals and massive corruption as breach of trust. The President's rating has dropped significantly following his failure to punish corrupt officials in his administration.
During my visit to Ghana for the Ghana Diaspora Homecoming Summit, i predicted this unfortunate situation because of few nefarious activities i saw involving people who are very close to the President. If I establish a church today, Ernest Ahenkora, Juma and others will be among my first batch of victims-
I narrated what I witnessed at the Presidency to them and instinctively, predicted the ordeal we going through. We fought elements of the NDC here in the United States and beyond between 2011 and 2016 and made sure we disfigured the "face" of John Mahama whenever we had the opportunity. We made the NDC unattractive among the young folks in the United States and extended the pressure on our relatives in Ghana.
We sponsored our local radio stations to break the myth surrounding John Mahama, we spent money to organise demonstrations against him and his officials whenever he attended international summits in the United States or any of the European countries.
Can we repeat this treatment one year in office?
Can we fix that cap on the head of John Mahama now he has decided to contest on the ticket of the NDC? Will the radio stations be willing to lead the crusade same as they did prior to the 2016 election and will our conscience allow us to embark on that project?
One year after leaving office, our recklessness has made the John Mahama we successfully defaced, a hero among Africans in the United States and beyond. During my last visit, I noticed same trend in Ghana. Taxi drivers have started pasting Mahama's pictures on their cars, youngmen and traders happily wear his T-shirts and his presence at all public functions ignite "fire".
We attended a business Forum in Kigali and many of the speakers from other African countries who spoke on infrastructure and economic development, constantly repeated his name and spoke well of him.
How did we get here fellow Patriots? Why have we left the arena to persons who didn't want to do anything with the NPP in opposition to dismantle all we struggled for. Why so many ostriches? Did we sign a four year contract with Ghanaians?
What we accused the NDC of doing, our government is now doing tenfold of them. There is poverty everywhere and the administration is not doing anything to bail out the suffering Ghanaians. Our allies including the spare parts dealers have regretted supporting the party morally, spiritually and financially.
Those who are defending our government's decision to allow the United States establish a military base should visit here and find out for themselves the disappointments and disenchantment being expressed by Ghanaians including staunch supporters of our tradition and other Africans. How do we explain this unfortunate decision to Ghanaians in 2020.
The structures John Mahama built are situated in our communities, the hospitals like the military hospital in my town are there to see.
That is what we must watch going forward and those are the issues all true lovers of our tradition should switch their attention on and constantly remind our government to pay attention to if we really want the party to remain in office.