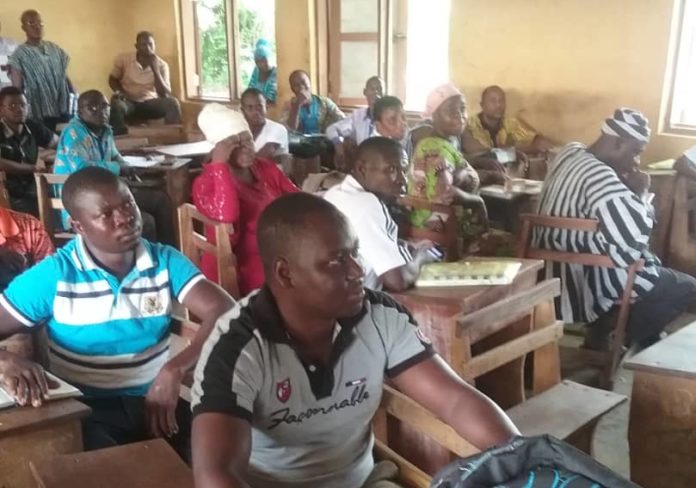 The Ghana National Association of Teachers (GNAT) yesterday 15th August, 2019 visited Teachers who are undergoing the Ghana Education Service (GES) new curriculum orientation in the Bole and Sawla districts at Bole at the Bole Senior High School and the Sawla DA Junior High School respectively.
490 Teachers are undergoing this orientation in the Bole District while 573 Teachers are undergoing same in the Sawla-Tuna-Kalba District. The orientation which is to take 5 days kicked off on 13th August 2019 and will end on 17th August 2019.
The Bole District GNAT Secretary, Chief Moapewura Abdulai Jaga told participants to be serious with the training as the knowledge that will be obtained will equally be inculcated into the school children.
The GNAT Secretary said a body for Teachers they have decided to monitor the curriculum orientation because the new curriculum is a new thing different from the old one and needed to be taken seriously so as to make an impact in the classroom.
Chief Moapewura Abdulai Jaga provided the the Teachers with 20 bags of sachet pure water each to the Bole and the Sawla-Tuna-Kalba Districts trainees to help quench their thirst as they go through the training.
Rev Augustine Tungkungmen the Assistant Director in charge of supervision at the Bole District Directorate of the Ghana Education Service (GES) and the supervisor of the curriculum orientation expressed his happiness over the concern of GNAT. He said they were going through some challenges but from the support of GNAT and some Philanthropist, they are making a head way.
He also thanked the Headmaster of the Bole Bole Senior High School Mr K.K. Ntoba and his staff for accommodating them in the school.
Source: nkilgifmonline.com