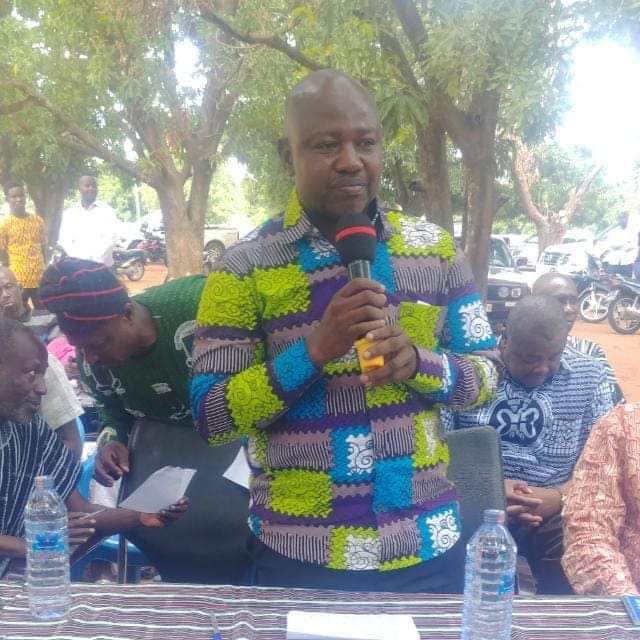 The Deputy Minister of the Savannah Region Mr. Samuel Yeyu Tika has told Nkilgi Fm in an exclusive interview that he is the very best to represent the Daboya-Mankarigu constituency in Parliament in 2020.
He has therefore called on the NPP delegates in the impending constituency primaries slated for September 28, 2019 to cast their votes for him to become their Parliamentary Candidate towards election 2020.
Mr. Tika, a two-time Parliamentary candidate in 2012 and 2016 disclosed that he has always increased his votes each election and is very optimistic of a win this time.
He said all the people in the Daboya-Mankarigu constituency are waiting for him and that the comments of the NDC shows they don't want him to come back. He said if he is given the opportunity he will win the seat.
The Deputy Minister of the Savannah Region called for unity among the people of the Daboya- Mankarigu and entreated the people to come together and develop the area.
He said in the 2012 elections he secured 6,672 votes and Hon Baani Nelson of NDC secured 8,275 votes to beat him for the seat with the vote difference being. 1,603.
Mr Tika said in the 2016 elections he had 8,589 votes and Shaibu Mahama of the NDC had 9,208 votes to beat him with a difference 619 votes.
According to Hon Tika , the increase in his votes at each elections is an indication that his chances are bright in the 2020 Parliamentary elections.
The Aspiring Parliamentary Candidate said he has helped to obtain jobs for his constituents and has always been available for most social activities in the constituency.
He says he is deep rooted, a grassroot man and is also widely known in the constituency which can impact positively on his fortunes in election 2020.
Hon. Tika appealed to all and sundry to support his dream so that he will be third time lucky like President Nana Addo to enable him represent his constituency in Parliament and this will enable him to bring the necessary accelerated development since he knows the area best.
Source: nkilgifmonline.com