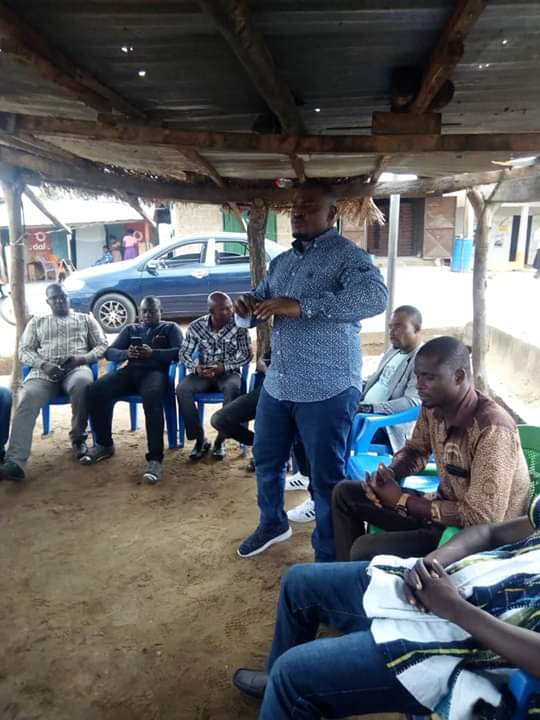 The Savannah Regional Youth Organiser of the NPP Raphael Mahama Akati in the accompany of other leading members of the Regional Youth wing, the constituency Youth Organisers across the Region yesterday took some time of their busy schedules to interact with some selected youth groups in Damongo township.
The Savannah Regional Youth Organiser used the opportunity to draw attention of the youth to some eyecatching government interventions enrolled to boost youth empowerment. He also encouraged both educated and un-educated youth to take up the policies of the day seriously since the policies are geared towards developing and empowering the youth of the country to help reduce the youth unemployment menace created as a result of what he said isnthe negligence and inefficient management of Ghana by the past government.
Speqking to a Youth geoup in Damomgo he said, "Nana Addo's government have come to do things differently, they have come for the wellbeing of every Ghanaian citizens and that is why most of their initiatives such as NABCO, Free SHS, Afforestation, Planting for Food and Jobs, Rearing for Food and Jobs and many more interventions are introduced to the benefits all.
The Regional Youth visited and interacted with camps in Damongo including 'Presby Annex youth'; 'United base one Youth' and 'Galamsey junction Annex'
Akati Mahama called for unity and the admonished the Youth to to patch up their differences as a family to form a formidable youth front since they are the agents for votes mobilisation come 2020 election and beyond.
The team took the opportunity to restore in the youth hope and sense of belongingness, reignited their confidence by pledging to support them with job opportunities under the NPP government.
The Regional Youth Organiser pledged to support all the various youth groups in and around with plastic chairs since its also one of the challenges that all youth groups are faced with when it comes to mobilisation.
The team gave the youth the opportunity to voice out their concerns which they did passionately and out of happiness. They assured Akati Mahama and the team of their full support for the NPP party and reiterated that they have already laced their boots waiting 2020.
Source: Nkilgi 103.7Fm, Bole (Savannah Region)
07/08/19