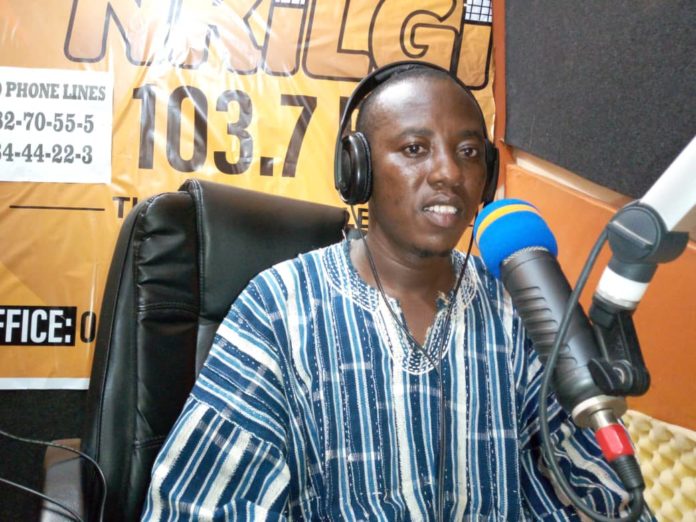 A popular NDC activist in the Bole- Bamboi Constituency Abudulai Haruna Obey has adviced Raphael Mahama Akati who has picked a nomination form to contest as the NPP candidate for the Bole- Bamboi Constituency to return it and still be the Savannah Region Youth Organiser of the NPP because "anyone who contest the MP for Bole-BamboiAlhaji Yusif Sulemana will get high blood pressure".
Speaking as a panelist on Bole based Nkilgi Fm's 'Aboya Tushiso' (Hot Issues) which comes on every saturday morning, Abudulai Obey said Rapael Mahama Akati has been deceived to pick a form and he cannot withstand the current Member of Parliament (MP) for Bole-Bamboi Alhaji Yusif Sulemana whom he described "very strong and vibrant".
He said the 2020 election in Bole-Bamboi is not an assemblyman election and so all those who have pick forms to contest as NPP Parliamentary candidate should take note that the road is a tough one and they need to plan and think carefully before joking with their political career.
The President of Constituency Watch Bole- Bamboi Haruna Abudulai Obey
said; "I call on my senior brother Akati to return the nomination form he picked to prevent any serious political upper and still be his Savannah Region Youth Organiser to avoid a big embarrassment and I repeat that he can't withstand Alhaji Yusif Sulemana"; he said.
He said the NPP is currently suffering from serious political trauma as they do not have a credible candidate to represent the party in the Bole-Bamboi for the 2020 and their Chairman Zack said this in an interview on Nkilgi.
On the same programme another panelist and NDC activist Gbelinyari Jacob said the DCE for Bole Madam Veronica Alele Heming Know that the NPP has lost the seat already and that is why she refused to contest even though the Chairman publicly told her to contest because she is the most credible candidate.
He said all those who have picked forms to contest the NPP Primaries in Bole- Bamboi are contesting because they want to be DCE and that they will all be disappointed.