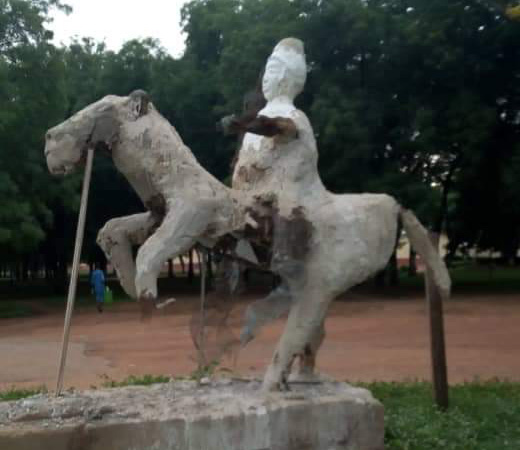 I was transferred to Paga from Tema as a branch Manager of my company a year ago and I have constantly passed through Damongo anytime I'm going to Bole my hometown or to Paga my work place.
I have lived in Damongo as a young Teacher from 1999 to 2001 and now notice the massive infrastructural development at a Senior Technical High School in Damongo named after Sumaila Ndewura Jakpa as compared to the years I lived in Damongo
But there is one particular monument I see at the entrance of the school anytime I'm passing that has triggered this write up. I will elaborate on this at the tail end of this write up.
First of all it is a fact that Ndewura Jakpa serves as a potent symbol of Gonjaland unity and pride today and is revered by the people of Gonjaland and worlwide.
Ndewura Jakpa has been named after many landmark projects and institutions in Gonjaland and Ghana.
Besides the Senior High Technical School at Damongo, the Palace of the Overlords of Gonja (Yagbonwura's) at Damongo is named 'Jakpa Palace'. A ferry on the Volta Lake of Ghana at Dambai in the Volta Region has been named "MV Ndewura Jakpa" by the Volta River Authority. A number of Junior High Schools located in many parts of Gonjaland as well as Houses and Dormitories of almost all Senior High Schools in Gonjaland have been named after Ndewura Jakpa.
Indeed the Great Ndewura Jakpa, who was the leader of the Gbanya or Gonja from 1675-97 is one of the most valorous warriors of the sixteenth century in African history.
It is noteworthy that Ndewura Jakpa was not the first ruler but perhaps Gonja attained its greatest glory during his reign.
Many powerful myths surround Ndewura Jakpa's life and he is the one attributed to be the founder of the Gonja Kingdom, which is the biggest in modern Ghana and a Kingdom whose traditions and influence survive to this day.
Jakpa is celebrated for his military prowess and founded the present Gonja Kingdom by invading vast areas in the Northern part of present-day Ghana and beyond.
By the end of his death, the Gonja Kingdom was established fully as a centralised state under his sole leadership in 1696.
Legend has it that after taking over from his father Bur Lanta, Ndewura Jakpa who became more respected by his people was able to spread his ideas with greater ease. Because of his background as a refined soldier, Jakpa taught his people that the most effective way of becoming powerful quickly was by conquering and controlling other tribes and lands. His teachings greatly influenced the social outlook of the Gonja people.
The Gonjas developed a "warrior" mindset, which Jakpa turned to his advantage. Jakpa created a mega military empire and word of his advanced military tactics did one of two things to neighboring tribes: they either moved far away or joined his forces, making him stronger and his enemies less formidable.
Coming back to the issue under discussion, I wish to say it is right to construct a statue for Ndewura Jakpa at the Damongo Senior Technical High School because by tradition, statues of promiment personalities are built to honour and immortalise their good or historical deeds.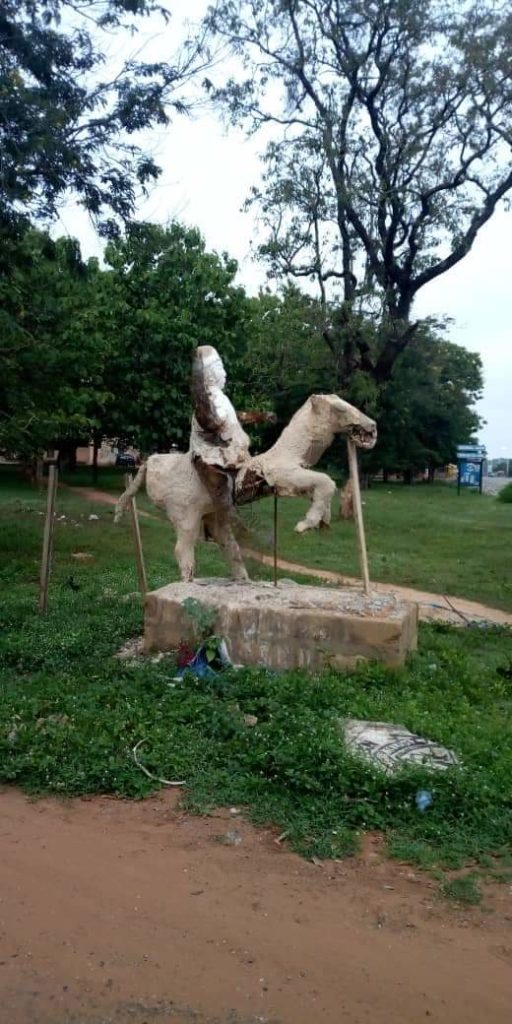 The authorities of the Ndewura Jakpa Senior Technical High School are therefore presently constructing a statue at the entrance of the School to honour and immortalise Jakpa. They need to be commended.
But why has the construction of statue been put on hold? Why have they not covered the statue while construction is ongoing. Yes it was covered as construction was not complete but as I write, the covering materials have been blown away perhaps by a rainstorm exposing an uncompleted statue with broken hands, limbs, and a falling horse Horse with Cut off Legs. A stick has been used to block the statue from falling.
A cursory look at the statue shows some shoddy work, if not, how can the hands, limbs, and the legs of the horse of Ndewura Jakpa be cut off with a stick used to block the statue from falling.
It is indeed an eye sore seeing a statue of the great Ndewura Jakpa in that state. The authorities of the Ndewura Jakpa Senior Technical High School can do better.
28th June, 2019 | By Mahama Haruna