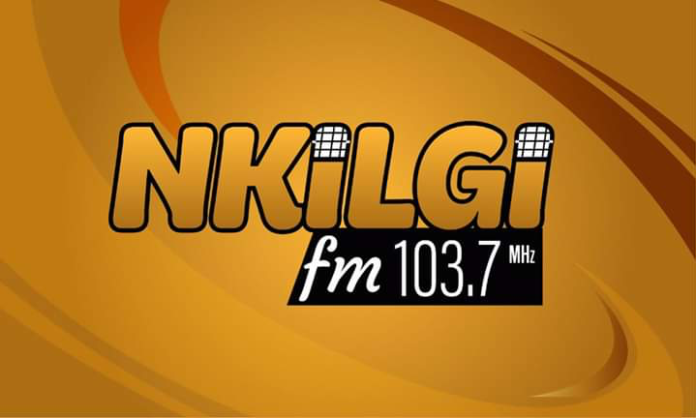 NKILGI 1037 FM started its programmes three years ago on 18th July, 2016.
When NKILGI FM began its programmes, it was unique. Most radio stations in the area at the time broadcasted in languages that were alien to the people. The language on Radio was mostly Akan in a predominantly Gonja, Vagla, Safalba, Brifor and Dagaari area.
NKILGI FM quickly gained a huge and loyal audience across the Western part of the now Savannah Region because it broadcast its programmes in the languages of the people in order to get everybody involved in the process of development in its catchment area. The use of local languages for broadcast has enhanced listenership and has bridge the illiterate and illiterate gap in the area.
Since then NKILGI FM has carved out its own niche. The workers led by the General Manager Mahama Haruna have built a radio station around many issues they are passionate about, hence building an audience that shares that passion and uniting a community of listeners and fans, who interact, share and ultimately define the station.
NKILGI FM brought a difference, a truly localised radio station, with a mission to report the human stories that were otherwise ignored; to cover events which are developing centred; and to hold power to account.
We have shone a spotlight on the people and stories that would otherwise have remained in the dark. And we have always done so with responsibility and integrity.
We are a Radio station which exists to cover all peoples; to hear human stories from all corners of the Savannah Region including the plight of the ordinary people- the downtrodden.
We are deeply proud of our brand. We respect and give thanks to everyone we report about, and everyone we inform.
The people of our catchment area, that is, Bole, Sawla-Tuna-Kalba and parts of the West Gonja, North Gonja, Central Gonja, Wa West (UW/R) and Banda (Bono) Districts are loyal to the NKILGI FM brand because of our continuous commitment to good Radio broadcasting; our dedication to covering their stories; and our determination to tell stories the way they are.
We at NKILGI FM believe in our mission; that is people having a right to be informed. People have a right to get news that is not controlled by the ruling political elite and traditional authorities. Indeed we have decided not to pander to the narrative of authorities.
We believe ordinary people have a right to know what is going on in their world. Equally, people have a right to have a voice. To have their stories told when they deserve and need to be heard.
In the three years of a our broadcast, we have remained resolute in our commitment to finding and covering stories. We have given a voice to the voiceless. We have shone a spotlight on the people and stories that would otherwise have remained in the dark. And we have always done so with responsibility and integrity.
The information we provide is a lifeline to hundreds of people who want to know what is really going on around them.
The business of radio has definitely evolved but the main focus for any Radio station is its effectiveness at serving the community.
Good local news and programming go a long way to lure listeners to a Radio station and that is the secret of Nkilgi FM at Bole.
People will always cry out for local news and information. Airing national and international news is a plus, but your listeners want to know what's going on in their backyard -not some city hundreds or thousands of miles away. If a Radio station gets news reporters to cover local government and community events, it becomes attractive to the people. It is good to present newscasts and public affairs programming that center around a Radio stations listenership. When a Radio station put the community first they get the people following it in droves.
Much appreciation goes to all workers. They are;
Mahama Haruna (General Manager)
Karley Maxwell Choco
(Programmes Manager)
Gideon Adu
(Technician/ Presenter)
Adama Nana Alhassan (Secretary)
Abudu Francis Jnr aka DJ BIG (Entertainment Presenter)
Mudasiru Afari Techi aka Mr Chairman (Morning Show/ Polical Programmes Presenter)
Braimah Dauda Sakara aka Commander (Morning Show/ Entertainment Presenter)
Wayo Bakari aka DJ Wayoosi & DJ Calban (Entertainment/ Afternoon Drive Presenter)
Joachim Ewuntomah (Sports/ Health Programme Presenter)
Musah Abdul- Fatawu aka DJ Caroozy (Entertainment/ Islamic Programmes Presenter)
Abdul- Mumin Kamagtey (Sports Presenter)
Teron Lukeman aka DJ Popiato (Dagaare/ Afternoon Drive Presenter)
John Bosco Ansuura aka Ras Bingi (Vagla Presenter)
Jorobom Paul (Brifor Presenter)
Amadu Mahama (Security)
Madam Adishietu Mahama (Cleaner)
We also appreciate the contribution of those who were with us but have moved on to other endeavours. They are;
John B. Mark
Adam Akilu Gideon
Kenneth Yussif and
4 Kotochi Shaibu
We thank our Correspondents for their hardwork especially Zion Abdul-Rauf of Damongo.
We thank those who committed resources to establish Nkilgi Fm and we thank those who have continued to sponsor us.
We thank everyone that has been part of us especially the numerous regular callers to our Programmes.
By Mahama Haruna