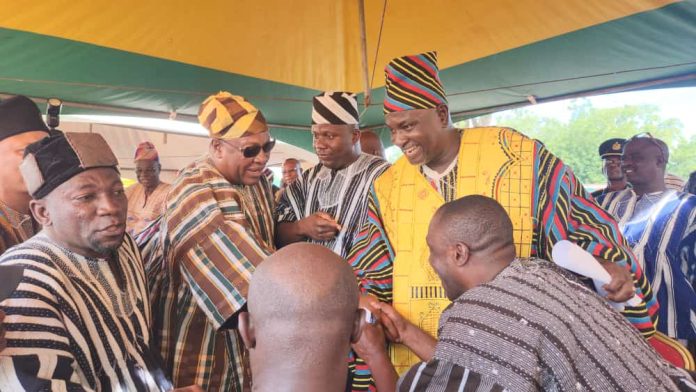 By Nuhu Abdul Ganiyu Kantamah
Taking a moment to reflect on the recent Yagbonwura Bikunuto I Damba event, held on Tuesday, October 3,2023 and the admirable display of unity and harmony exhibited by the leadership of the two dorminant political parties in the Savannah Region, the New Patriotic Party(NPP) and the National Democratic Congress(NDC) as well as the Former President His Excellency John Dramani Mahamah and Lawyer Samuel Abu Jinapor the Minister for Lands and Natural resources. Their actions serve as a powerful reminder of the importance of peace and harmony in our society.
Throughout the Yagbonwura Damba festivities, it was evident that the chairpersons of both parties, regardless of their political affiliations, stood united in the spirit of togetherness. Their commitment to fostering peace and harmony was palpable in every aspect of their participation.
What was most striking was how they seamlessly worked together to ensure the success of the event. Their collaboration was a testament to the fact that, beyond politics, they shared deep-rooted sense of respect and kinship. Their actions transcended partisan lines, serving as a reminder that family ties and community bonds existed long before the advent of partisan politics.
This demonstration by the leaders of the NPP and NDC sends a powerful message to all of us, their followers and supporters. It underscores the idea that we should emulate the example and prioritize peace and unity above all else. In a time when political divisions can often lead to discord, their actions remind us that we are part of a larger family, a community, and a nation. It is a reminder that we should cherish the bonds that unite us, regardless of our political beliefs.
As we move forward, let us draw inspiration from the harmony displayed at Yagbonwura Damba, 2023, and strive to foster a more peaceful and united community. Let us remember that, at the core of it all, we are all connected by our shared values, history, and aspirations.
In the spirit of togetherness and unity, may we continue to build a better future for the Savannah Region and our beloved nation. Let us prioritize our shared well-being over political differences, and in doing so, honor the legacy of unity that the leadership of both political parties have so beautifully exemplified.
4th October, 2023.