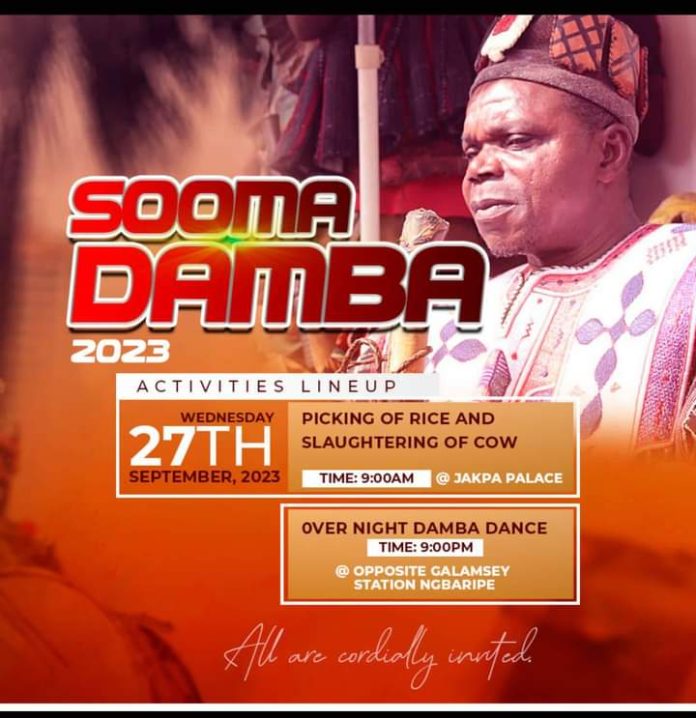 A member of the Kutunkure Clan of Damongo Alhaji Abass Dangba has appealed to the King and Overlord of Gonja Yagbonwura Soale Jewu Bikunuto (I) to stop Alhaji Afuli Losina from organising Soma Damba in his residence since it is alien to the traditions of the Yagbon skins.
Alhaji Dangba in an interview with Bole based Nkilgi FM said he has witnessed past Yagnonwura's perform the Damba dance without the involvement of anybody doing it outside the Jakpa Palace and further alleged that Alhaji Afuli is looking for an avenue to get close to the King and mess him up like he did to past Kings which the Yagbonwura must look sharp to stop.
He added that nobody should be allowed to change the customs and traditions of the land for his parochial interest since that will spell doom for the Gonja Kingdom.
Meanwhile Nkilgi Fm got in touch with a member of the Sooma Clan of Gonja, Adam Iddrisu Afuli and he disclosed that Yagbonwura Bii-Kunuto Jewu Soale (I), King and Overlord of Gonja Kingdom and President of Savannah Region House of Chiefs has given his approval and blessings for the celebration of Sooma Damba.He said, "Yagbonwura presented the necessary items to Alhaji Afuli Losina.The Soomawura elect and some members of the Sooma family are currently in Damongo to support Alhaji Afuli and the entire family perform the Damba".
Adam Iddrisu Afuli said, "The rice picking and slaughtering of the Damba bull has been done already at the Jakpa Palace and that anyone from the Kuntunkure clan cannot stop the Sooma family from performing it's traditional role".
Source: nkilgifmonline.com