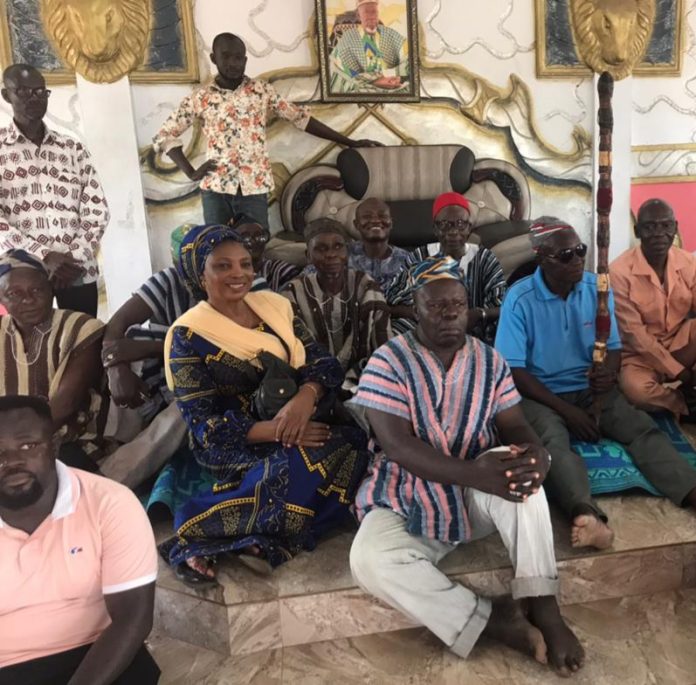 The District Chief Executive (DCE) for Bole in the Savannah Region Madam Veronica Alele Heming on Tuesday, 4th July 2023 handed over a land site and all paperwork for the construction of the Savannah Regional Minerals Commission office in Bole.
Addressing the media shortly after the handover of the site in Bole, Madam Veronica Alele Heming said, she received a call from the Member of Parliament (MP) for the Bole-Bamboi constituency, Hon Yusif Sulemana, who informed her that, the Minerals Commission delegation were on their way to Bole but they couldn't reach out to notify her (the DCE) due to poor network connection.
She added that after the MP's call, she hurriedly moved to meet the delegation into Bole for the necessary engagement with the Bolewura and keystakeholders of the community.
After leading the delegation of the mineral commission to the Bolewura, Sarfo Kutuge Feso (l), they had a fruitful engagement with the Paramount Chief of the Bole Traditional Area.
The Bole DCE disclosed that she has since handed over the land site around the Bole DCE Bungalow through to the Hippo Centre to the ICT centre to the contractor to work on with a duration of one (1) year. The contractor is the Chairman of the New Patriotic Party (NPP) for the Bole-Bamboi constituency Alhaji Abu Bilfu alias Abu Tico.
The minerals commission will advise the Minister of Lands and Natural Resources on matters relating to minerals to receive and assess public agreements relating to minerals and report to Parliament. Also, to perform such other functions as the Minister may assign to it.
The Minerals Commission is also responsible for the regulation and management of the utilization of the mineral resources of Ghana and the coordination.
Meanwhile, the DCE again used the opportunity to call on everyone in the Bole district to rally behind her and the assembly as she is hopeful of more developmental projects in the district.
She said that, together with the MP for the Bole-Bamboi Constituency, plans are underway for contractors to work on the Bole to Sonyo road, the Bole to Dakuripe road, and the Bole ro Mandari road.
Source: nkilgifmonline.com