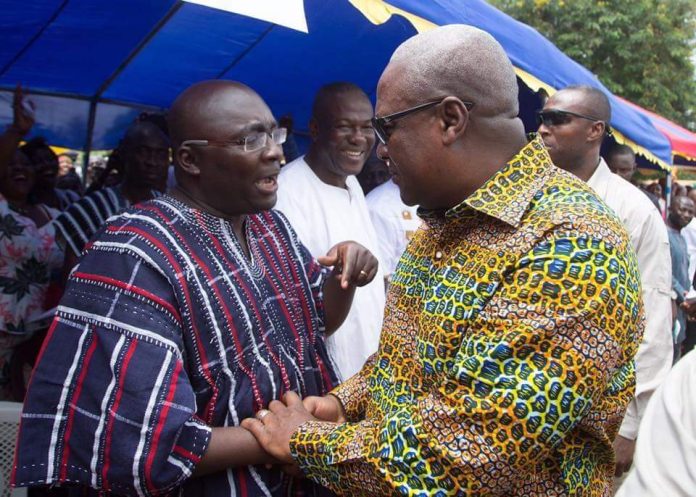 By Dr Michael Javis Borkor
What a ridiculous nonsense!!
Folks, I have no doubt in my mind that the NDC's presumptive flagbearer (Mahama) for Election 2024 is streets ahead of the NPP's bitter joker, Bawumia.
Mahama's renown in terms of tackling Ghana's challenges of underdevelopment are unquestionable, regardless of some mishaps and misteps in policy directions and the overall performance of his team.
Not so for Bawumia, who was (and is still being) used as the pawn in the Akufo-Addo scheme of gangsterism to destroy Ghana.
What exactly will recommend Bawumia to the electorate to enable him trounce Mahama at Election 2024? I don't see it.
In any case, Bawumia hasn't been bold enough to declare his stance as a contestant in the game for choosing the NPP's flagbearer even though he is being fronted for and projected as such by his hirelings.
Akufo-Addo's warning to his appointees interested in contesting the flagbearership to resign was put to the test when Kyeremateng and Owusu Afriyie left the team (of corrupt, incompetent, and unfocused empty braggarts) to set their eyes on the flagbearership.
Bawumia hasn't done so. Neither has he openly declared his intention to seek the NPP's flagbearership even though he is staunchly and assiduously funding and supporting all manouevres to project him as such.
A lot to raise but I will not go into all that nitty-gritty.
Suffice it for me to focus on this scope, be it narrow or wide:
If Bawumia bribes his way into becoming the NPP's flagbearer, he will win a Pyrrhic victory to split the NPP (he has no foothold in the Danquah-Busia political trash to be entrusted as its apostle to sustain the fight against anything progressive for Ghana's good).
Bawumia's personal records regarding successes as the Vice President are questionable.
(a) Ghana's economy has collapsed under his watch as the Chairman of the Economic Management
Team;
(b) The Ghana Police Service hasn't seen any improvement under his chairmanship;
(c) Much of all the bombastic political gimmicks in which he clothed his solution to the challenges of "digitalization" or "digitizing" the economy can't solve problems. In any case, it was the Mahana-led administration that moved Ghana toward digitalization that this shameless Bawumia is capitalizing on.
The "Northern Ghana" factor in leadership: The late Dr. Hilla Limann tried and failed.
John Mahama emerged and won hearts and minds despite the brutish/brutal and crude politicking by his haters.
What will pitting two Northerners against each other at Election 2024 mean for Ghana, especially when placed within the context of those who undermine "Ntafuo"?
Folks, a lot more to say, but let me cut the chase here. Otherwise, my mouth will turn into a gun; and you should know those that it will shoot.
1st April, 2023.