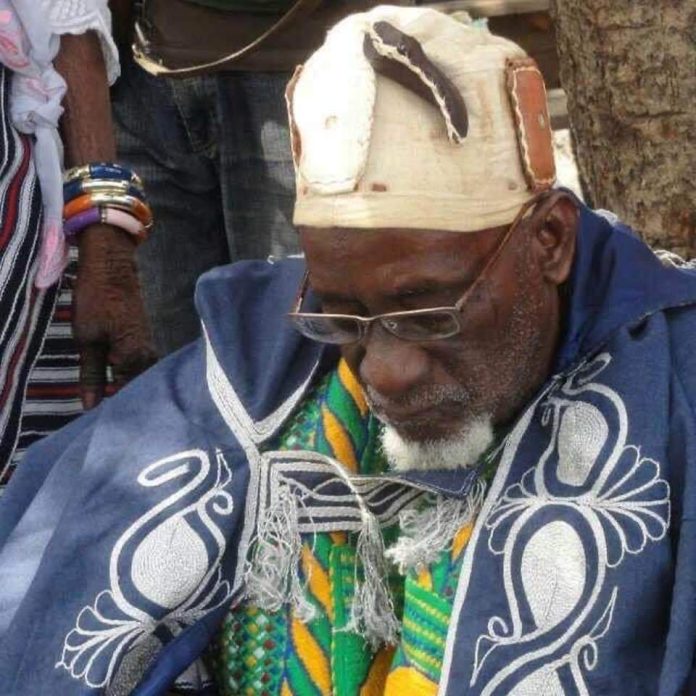 The King and Overlord of the Gonja state Yagbonwura Tuntumba Boresa (I) who passed on at dawn of Saturday, 5th February 2023 at Damongo after 13 years on the Yagbon throne will be interred today at the Gonja Kings Mausoleum at Mankuma near Bole in accordance to Gonja customs and traditions. The Yagbonwura was 90 years old.
The Chief of Sonyo, Sonyonwura Adamu Bakari Kanyiti has in accordance to Gonja traditional arrangements on burial and succession of a King, since moved into the Jakpa Palace at Damongo to act as Head of State and President of the Gonja Traditional Council until a new Yagbonwura is enskined.
The Sonyowura is also leading in all preparations for customary and traditional royal burial of the Yagbonwura at the royal mausoleum for Gonja Kings at Mankuma near Bole.
The body of the Yagbonwura has been moved to Nyange the former of first traditional capital of Gonja for other traditional rites before it would be moved to Mankuma through a path that was used for movement from the Bole area to Nyange.
*Brief Profile of the late King of Gonja*
Yagbonwura Sulemana Jakpa Tuntumba Boresa (I) was enthroned as King of the Gonja Kingdom in March, 2010. He was born in the year 1933 to Yapeiwura Bakari the son of Yagbonwura Mahama of Kusawgu.
His father Yapeiwura Bakari married eleven wives as such, in position of hierarchy Tuntumba Boresa I would have been the 30th in line with his siblings as he is older than only three of his siblings-two men and a woman.
At the age of 20 years, thus, in 1953 he migrated to Tamale to join his siblings who were residing in Sabonjida.
In 1954 his elder brother suggested that considering how hard working and smart he was in all endeavours (it was late for him to be accepted into the formal educational structure) he should be enrolled into the Kwame Nkrumah Mass Education programme. This he did and and Sulemana Jakpa proved himself very well.
One of his brothers directed that, he took up apprenticeship in Carpentry and Joinery. He was entrusted into the hands of a very popular carpenter of good standing in Tamale called Yaw Apaw, a Fante man.
Within a period of three years he passed out as a Master in Carpentry and Joinery in 1957, the year Ghana attained independence.
Tuntumba Boresa (I) Sulemana Jakpa in his private life worked with several organisations such as Ministry of Agriculture, Saba International Construction Company who constructed the Ghana Foods Distribution Depot in Tamale in 1957, SIMS Construction, Tamale Supplies, a construction firm, Tuffour Construction and many others.
He later joined the 48 Engineers Regiment popularly called Gas engineers. They constructed the Kalandan Barracks, Kamina Barracks, and Bawa Barracks – thus the Airborne Force in Tamale.
He also participated in the construction of the Tema Township and Tema Harbor during the rule of Dr. Kwame Nkrumah, the first President and Prime Minister of Ghana.
Other major project s, in whose constructionhe participated are Kwame Nkrumah Trust Schools which are still living testimonies today. Several schools in the Ada- foa and Akatsi areas were construction projects he was involved.
After the overthrow of the Busia Administration by Ignatius Kutu Acheampong in 1972 and the re-introduction of the District council concept, Tuntumba Boresa (I) was transferred to the West Dagomba Council as a works foreman in the Carpentry and Joinery workshop.
Hence, all the public and state constructional works were carried out under his direct supervision.
In 1974 he was transferred to Savelugu Local Council with Alhaji Haruna (Late Kpembewura Kibasibi) as the clerk of council to set up that Administration.
He lived and worked in the Savelugu-Nantong Council over fifteen years until 1979 when he was finally transferred back to Tamale Municipal Assembly where he worked until his retirement in the year 1993.
Most of the District Assembly funded projects in the Tamale, Savelugu, Pong-Tamale areas were handled by him from 1974 to 1993.
During the 1981 Revolution led by Chairman Jerry John Rawlings, Tuntumba Boresa I was the People's Defence Committee (PDC) Chairman for the Lamashegu Area. It was in this era that the popular Lamashegu Food Market was created and has been the market serving Tamale South Area and its environs ever since.
All cases relating to petty thievery, domestic violence, abuse of children and women, illegal profiteering, hoarding, illegal pssession of fire arms were handled to the satisfaction of all concerned. This earned him the accolade Chairman. Indeed from 1979 to 1987 he was an icon in the Tamale- Lamashegu Traditional Area.
In the area of sports he was a football fanatic to the extent that he became the National Supporters Chairman of Real Tamale United (RTU). He handled the National Supporters Chairmanship for about five years.
In 1986 Yagbonwura Tuntumba was enkinned the Salaa-wura of the Kusawgu Traditional Area.
In the year 2002 the late Yagbonwura Bawa Doshi of blessed memory enskined him as Yapeiwura, thus, after Kusawguwura Amanfo decided not to hand the Chieftaincy to the Jakpa gate who's turn it was.
After the demise of Kusawguwura Amanfo, Sulemana Jakpa (Yagbonwura Tuntumba Boresa I) was enskinned as Kusawguwura by the late Yagbonwura Bawa Doshi in June 2007.
It is noteworthy that on the day the Yapei skin was given to Salawura Sulemana Jakpa (Yagbonwura Tuntumba Boresa), Yagbonwura Bawa Doshi remarked;
"It is not only Yapei am handing over to you this day, have it in your mind that when I eject my feet from my sandals, you shall be the next to wear them, Kusha, Kusha, may you go in peace".
This was a prophetic message but only a few do remember these words today. His word came to pass and Tuntumba Boresa I Sulemana Jakpa did come unto the Yagbon skins as the successor to Yagbonwura Bawa Doshi of blessed memory.
The Gonja Kingdom under Yagbonwura Tuntumba Boresa
Yagbonwura Tuntumba Boresa has undoubtedly spearheaded and facilitated the development of Gonjaland extending same to the entire Northern Region when he ascended the administrative throne as Vice- President of the Northern Regional House of Chiefs as well as being a member of the committee of eminent Chiefs to mediate for peace in the Dagbon Conflict.
The Yagbonwura was always keen to initiate and see to the execution of development projects for his people.
During his coronation in 2010, Yagbonwura promised a leadership style that would transform the lives of his people.
It can be asserted that the Yagbonwura lived up to his words on that day of his coronation. The inspirational leadership of Yagbonwura Tuntumba brought about a tremendous transformation in all spheres of life in Gonjaland.
Source: nkilgifmonline.com