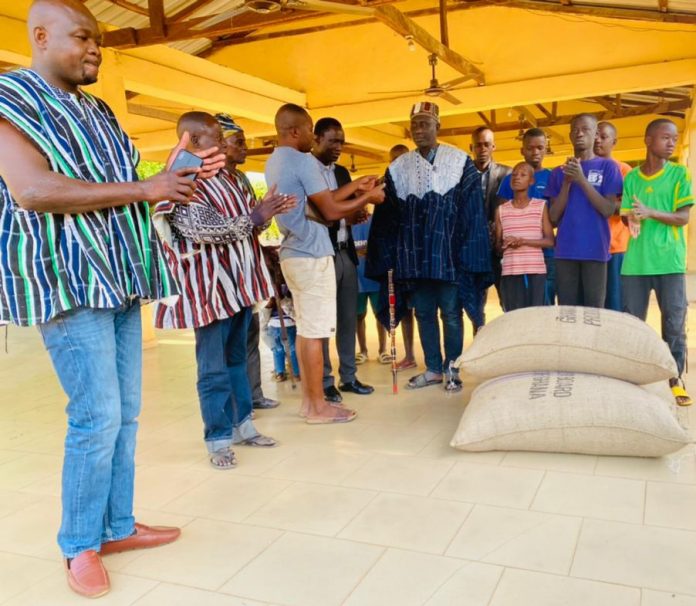 Boresa Farms, a privately owned farms in Damongo in the Savannah Region has donated some bags of maize to two children homes in the region on 19th December 2021 as part of the New Year festivity.
The Redemption Children's home in Damongo in the West Gonja Municipality and the Sawla Children's home in Sawla in the Sawla-Tuna-Kalba district of the Savannah Region are the beneficiaries of the kind gesture.
Presenting the items, the Chief of Sawla, Sawlawura Abudulai Iddrisu Nungbaso on behalf of the King of Gonja Yagbonwura TutumbaBoresa(I), presented three bags of maize to the orphanage and added that it is with much love that the Overlord of Gonja and management of Boresa farms thought it wise to present the maize.
The Sawlawura said this is not the first time the Yagbonwura is supporting the home and will continue to support them once there is life.
The Registrar of the Gonja Traditional Council, Mr Kapori Abutu commended the handlers of the home for their kind hearted gesture towards the children and encouraged them to do more for God's blessings in their lives.
He added that the management of Boresa Farms wished the children of the home a prosperous new year, and encourages them to take their studies seriously to achieve whatever they desire to be in future.
"Do not be disturbed or discouraged with your situation, always strive hard to succeed in life" Mr Kapori said.
Pastor Emmanuel Danka, caretaker of the home on behalf of the home thanked the Yagbonwura and Boresah Farms for remembering them especially at this time of the year.
Pastor Emmanuel also wished the Yagbonwura good health and prayed to God to always strengthen him in terms of wisdom since he is leading a very big Kingdom.
The delegation to the orphanage included Mr Seidu Jeremiah of Jaksally, the Sawlawura and Mr Kapori.
Source: nkilgifmonline.com