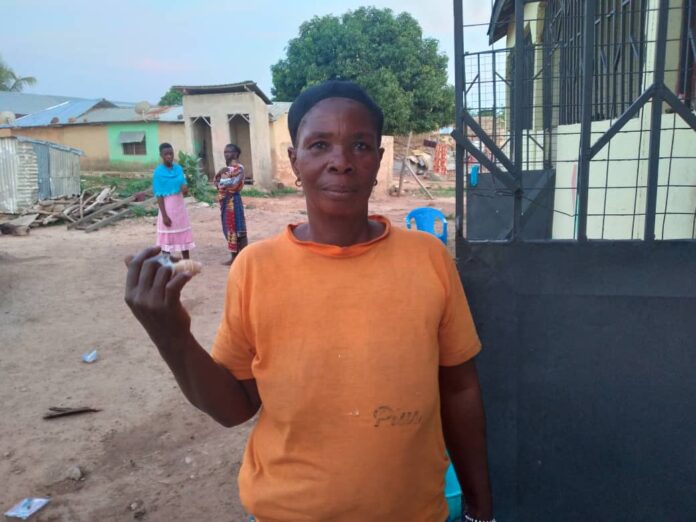 The ring or fourth finger of a woman called Madam Biba was bitten off by one Konyo Baby for trying to stop a fight between she (Konyo Baby) and the husbands alleged girlfriend. The incident happened at a suburb of Bole called Jakala last Saturday.
Bole based Nkilgi Fm was alerted while the fight was going on so and a reporter was dispatched to the house and he actually saw and took photos of the bitten off ring finger and bandaged hand of Madam Biba.
Madam Biba told Nkilgi Fm there was a brawl between Konyo Baby and the husbands girlfriend and she came out to help stop the fight but unfortunately the married woman bit her hand and chopped it off.
Madam Biba said she has no grudges with Konyo Baby who bit her because she was in the area before she came there.
"I only heard the noise from my house which I realized I have to go and helped. But never knew this was going to happen to me"; Madam Biba said.
An eyewitness at the scene narrated to Nkilgi Fm that the husband of Konyo Baby called Mr Rashad is a fuel attendant in Bole but hails from Salaga. She added that Mr Rashad is friending another girl in the house and so the two always fight each other.
The eye witness said their usual fight started again last Saturday and Madam Biba came to help stop the fight but Konyo Baby turned and bit off the finger of the woman who was trying to separate them.
The eye witness also said the Mr Rashad then pleaded they should resolve the matter and let peace prevail and has therefore been talking to Madam Biba to plead that the matter ends.
Meanwhile after Nkilgi Fm run the story today Monday 19th April, 2021, Konyo Baby phone in and explained her side of the story and has m denied biting off the finger of Madam Biba.
She said; "I came with my husband from Salaga to Bole and I respected my husband a lot…usually when he has problem with me, he normally consult one woman who has a granddaughter who is a young girl in our house.
"Not knowing the woman was pushing her granddaughter to my husband which I never knew"
Konyo Baby disclosed that;
"One day I met my husband and the young girl seducing each other under a mango tree outside so I went to complain to the woman but she was not there.
"The woman later came and they told her I came to look for her looking angry so the girl (husbands girlfriend) and her friends came to my side of the house and started beating me up…and I never knew who bit the ring finger of the woman".
Source: nkilgifmonline.com