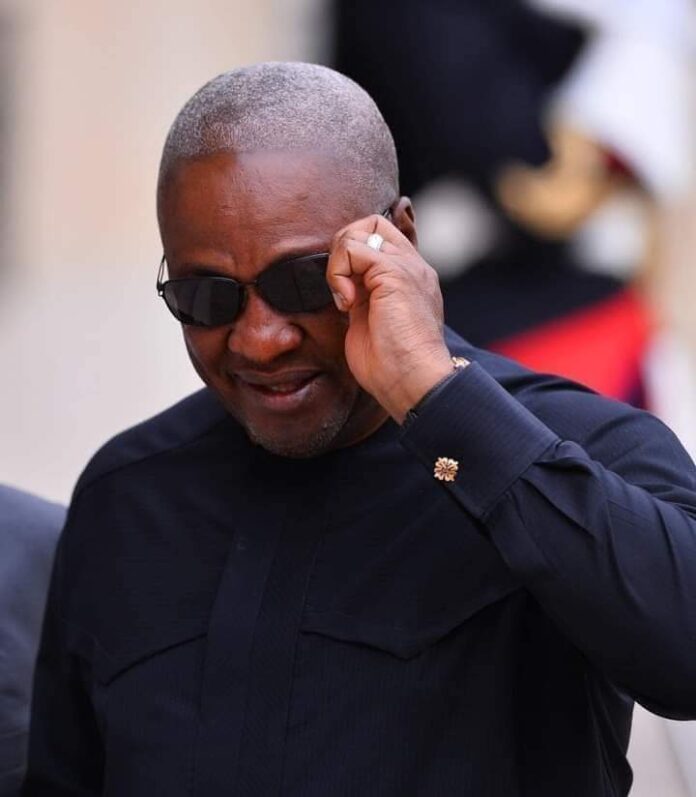 By Mahama Ibrahim Watara
Unilaterally, Ghanaians have come to believe that his Excellency John Dramani Mahama has become a colossus in the politics of Ghana having been known to be one of the few who has dedicated his entire life selflessly in service to the Ghanaian public
As a political giant of a mammoth stature, many has come to love him for his humility and simplicity. His charisma is likened to a gravitational pull that even attract his haters to agree with him always at the end of a round table discussion.
As they says goes sometimes your blessings is always mixed with the ashes that makes up your curse, such is the political fortune fate has visited on this gentle soul of a presidential stature.
In the history of the fourth republic of Ghana,no single presidential individual has been vilified by his political opponents as compared to the formal president John Dramani Mahama.
From his short time in power to his short time in opposition, he became the brush used to paint any misfortune thar befall the country ,yet he accepts all the blame in the silence of his strides because he always believe that posterity is the best judge.
Hate him or love him , formal president Mahama is the best individual president ever been produced in the forth republican dispensation in the history of Ghana despite his short comings when it comes to leadership.
He might have taken certain unpopular decisions that may be perceived to be wrong politically, however that makes him a human being but not a God as some detractors within the NDC itself have started painting him black just to satisfy their own parochial interest in a contestation to cause his disaffection in the ranks and file of the NDC and also in an attempt to influence the unsuspecting patrons of the grassroots to lunch a negative campaign against his 2024 election bid.
The other day I overheard a certain fake and capricious member of the NDC who claim to love the party more than God himself saying that, John Dramani Mahama should not be allowed to contest in the incoming 2024 presidential elections invariably meaning he should forced not to participate in the party s primaries as a candidate. Permit me to say that anybody who thinks this way has love for the party and does not know the constitution of the party or that such a person has a personal bitterness against the formal president.
No political party anywhere in the world would dare throw away such an excellent presidential material in the person of John Dramani Mahama any day or any time even if he becomes the president of Ghana for just one day.
It is a strong conviction, that the NDC would not have John Dramani Mahama setting a bad precedence for the party in bringing a one term presidency in to the history of the party as a living formal president but follow the footsteps of his predicesors such as the late formal president Jerry John Rawlings, who ruled Ghana for 8 good years as a democratic president and 11 years as a military leader making him the longest serving leader in the political history of Ghana yet at that time no hypocrite came out to say formal president Jerry John Rawlings should not be allowed to become a democratic president of Ghana after 11 solid years of military dictatorship and formal president Evans Atta Mills who if not for death would have served this country for 8 years whose unfortunate demise brought about both a blessing and a curse to his immediate successor John Dramani Mahama.
I said both a blessing and a curse because the demise of Atta Mills made John Dramani Mahama a president to complete an indirect second term of late good old Prof. Evans Atta Mills.
A curse in the other hand is to say that, by completing the indirect second term of the late professor Mills, curtailed the original order of succession where by every individual president is guaranteed a straight forward second term by the logic and pattern of the Ghanaian voter since 1992.
In addition, the culture of changing any political party in government after every eight years also stuck the fire of his misfortune in the 2016 elections where Ghanaians rejected the NDC as a party by booting it out for been in government for eight years.
After suffering from this political setback all that is expected was a consolation and not a condemnation because it isn't easy losing an election but for the catharsis one may understand the grievances of the party s grassroots then in the aftermaths of every election.
However, some so-called leaders of the party won't allow peace to prevail in the party but are willing to sellout the party to its main political opponents just to make sure that John Dramani Mahama falls and as karma would always have it's way, some of the individuals who where secretly digging the feet of John Dramani Mahama in their hideouts to the extreme extend, selling out the party have been exposed since they couldn't hide their personal hatred for John Dramani Mahama in the NDC anymore.
In our local parlance it is said that when you are stung by an insect don't look for it any where but it is in your own clothes. And any man who steers the peaceful waves of the sea mischievously must be prepared to roll in extreme violence to escape the wrath of the sea thereof..
Recently I have heard of some suspensions in relation to these sellouts I'm referring to within the party who are even tarnishing the image of a certain Institute named after the late good old Prof. Evans Atta Mills. Everybody must learn to respect and protect women's rights in this country.
For any political party to thrive it must learn not to wash it's dirty clothing in the public domain a saying many of these people are familiar with but would hypocritically allude to its efficacy but behave as ostriches in order to hypocritically satisfy their or parochial interest and not that of the interest of the great NDC party.
Nobody can claim to love the party if he/she can not live by this simple basic principle of keeping what is strictly party's from what is generally for public consumption.
Nobody can claim the principle of probity and accountability if he/she can not follow the principle of discipline in conduct and behavior.
The NDC must always learn to give to Cesar what is Cesars and to God what is God's.
In my own estimation, no one should even contest John Dramani Mahama in the party's 2024 presidential primaries by the grace of God who grants long life and good health.
A gesture to show respect and solidarity to all those heros and heroins who perished in the last elections in Accra, Techima South and Savelugu respectfully in honor for the love and loyalty they showed to the great NDC which led to their untimely deaths.
The party must be willing to forcefully hijack the decision of John Dramani Mahama to come back in 2024 if he dare show any sign of bowing to pressure from his detractors not to come back for re-election.
The grassroots of the party are willing to go to any length to bring honour to the lost youths who perished in the hands of this corrupt current government and bringing back Mahama would be the solution to pacify the lands.
There would not be bootlickers in the second coming of John Dramani Mahama as every member of the grassroots would be given equal opportunity as those chosen to lead the affairs of the republic and with all that said and done no member of the grassroots would tolerate any stakeholder or leader in the party who would be benefiting from the sweat of the grassroots without showing respect to where their opportunity came from.
John Dramani Mahama is the only experienced, time tested and most qualified presidential candidate the NDC can ever boost of for now because he is like the precious metal that has passed through the furnace fire with the perfect natural shine to lead.
I believe that leadership should not be based on try an error or the try and see principle which the Nation is currently suffering from when in 2016 elections we where told to try the current president and see and what have we seen, political disaster, rhetorical populism, corruption, nepotism in the highest order, thievery and plunder,worse form of insecurity ever recorded in Ghana, suppression of media freedoms, lies and deceitful governance, hardship and poverty and a very poor and inefficient economic management.
John Mahama also deserve a second term since he is also a human being as his predicesors , besides he would not be ending his second term at 80 as others greedily doing and would not be accused of been power drunk.
John Dramani Mahama still remains the best bet for Ghana s prosperity and development, one who has it through hard experience to deliver and raid Ghana from poverty, stagnation and hunger.
John Dramani Mahama also deserves a second term too.
Long Live Motherland Ghana in peace and Prosperity under the perfect hands of John Dramani Mahama come 2024 Inshah Allah.
16/03/2021