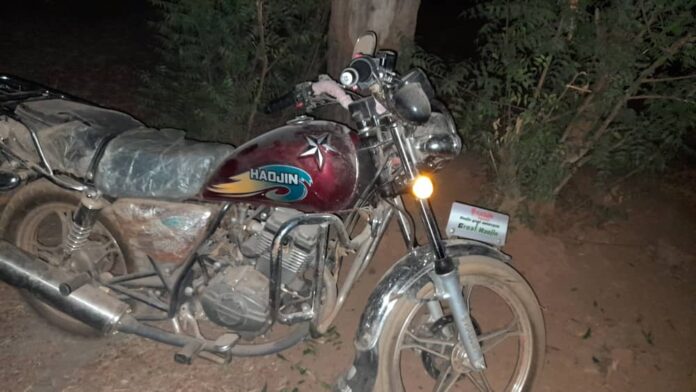 A brand new wine coloured Haojin Motorbike has been found in the bushes of Kpiri near Damongo by some farmers at the weekend with suspicion a thief might have stolen the motor and kept it there. The farmers who found the motorbike laid ambush for closed to 10 hours and after no one showed up handed it over to the Damongo Police for safe keeping.
There are suspicions the motorbike was stolen elsewhere an abandoned as a result of fuel shortage.
The Kpiri road links to the galamsey areas where several incidents of motorbike thievery and snatching by criminals at gunpoint has been taking place frequently.
The Damongo township is also not left out when it comes to motorbike stealing. A recent video that has gone viral has a popular youngman who has been alleged to have stolen a Haojue motorbike belonging to a lady and was arrested and being tortured has become the talk of town as the alleged thief is heard in the video speaking and begging to be released after his hands were tied to a tree and being given lashes from the the young men who caught him in the act.
In other news, a truck loaded with charcoal has been involved in an accident on the Damongo galamsey road injuring one person. The debris has however been cleared with the car taken away from the scene. This is the second time charcoal carrying vehicles has been involved in accidents in the Damongo township. The last one happened somewhere last year around the Catholic guest house road blocking the outgoing Savanna Regional minister from entering into Damongo and getting access to his office.
Source: nkilgifmonline.com