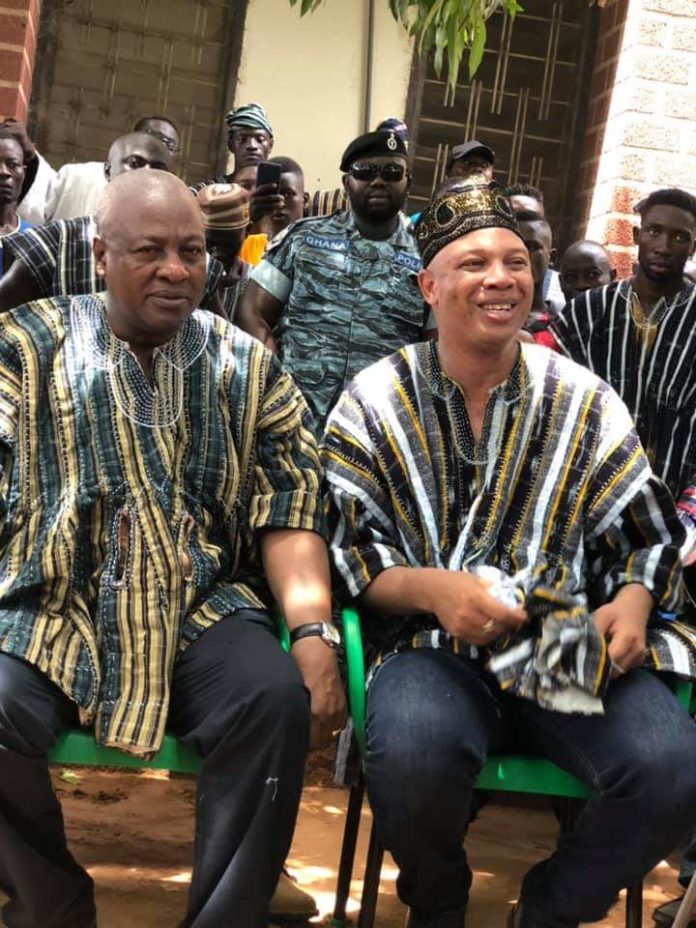 The Member of Parliament (MP) for the Damongo Constituency of the Savannah Region, Hon. Adam Mutawakilu has disclosed exclusively to Bole based Nkilgi FM that the next John Mahama administration will see Damongo and surrounding villages enjoy portable drinking water with the project starting three months after his swearing in.
Hon. Adam Mutawakilu who is the ranking Member for Mines and Energy in Ghana's Parliament and also the opposition National  Democratic Congress (NDC) Parliamentary candidate for the Damongo Constituency said this on the sidelines during his presentation of Personal Protective Equipments (PPE's) to the Damongo Catholic Hospital in the Savannah Regional Capital.
He reminded the people of the Savannah Region that Damongo the Savannah regional capital had three major problems affecting the inhabitants.
The MP mentioned electricity, roads and water and thatthe previous NDC governments had solved two of the problems, that is, electricity extension all the way from Sawla to Damongo under the Jerry John Rawlings administration which has been extended to almost every part of the constituency with a few communities left to be connected to the national grid.
He said another major problem of the people was the almighty Fufulso- Sawla road that passes through Damongo but the ND C government of former President John Dramani Mahama's government has constructed the road.
Hon. Mutawakilu said the NPP under the erstwhile Kuffour administration never made any attempt to construct the road after eight years in office despite the number of accident cases that is being recorded on yearly basis until the NDC bounced back and constructed the road that saw many villages along the road benefit from clinics, markets and other projects.
He therefore urged the people of the constituency to vote massively for John Dramani Mahama and himself as MP to provide the people of the constituency with portable drinking water since it is only the NDC that brings development to the doorsteps of the people.
He said again that the NPP has some few months to leave office after promising the Damongo Constituency of fixing the water problem which he knows is a mirage since the NDC is the only party that will provide quality drinking water to the people.
Earlier, the MP had supported the West Gonja Municipal Health Directorate with Ghc3,000.00 for sensitization purposes and another Ghc2,000.00 set aside in a contingency fund to help fight the deadly Corvid-19 disease and further supported over 30 head porters (Kayayei) from Damongo residing in Kumasi with an undisclosed sum of money to assist them cope with the lockdown.
Source: nkilgifmonline.com/ Zion Abdul- Rauf.