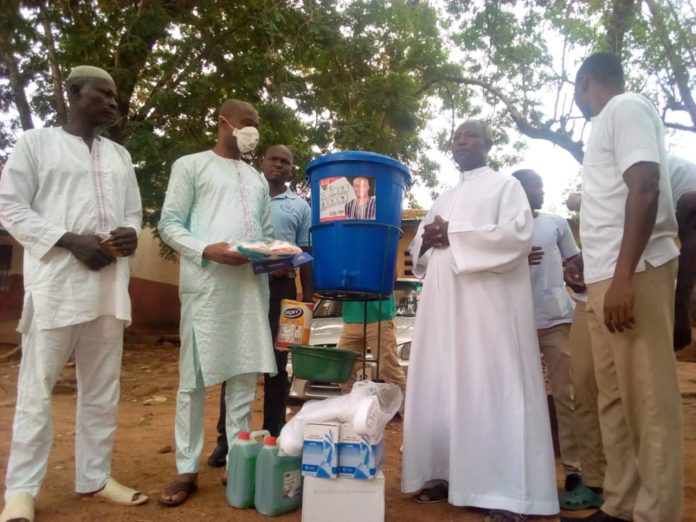 The Member of Parliament (MP) for the Bole-Bamboi Constituency of the Savannah Region Hon. Alhaji Yussif Sulemana has donated some items to the Martyrs of Uganda of the Catholic Parish in the Bole District of Savannah Region on behalf of the former President John Dramani Mahama.
The MP donated 1 set of PPE, 1 Veronica bucket and its tripod stand, 1 gallon of liquid soap, 1 gum boot, 1 infrared thermometer gum, 1 pack of a tissue paper and a box of sanitizers to the Bole Catholic church health facility at a brief ceremony on 8th April, 2020
Speaking to Bole based Nkilgi FM, the MP said most of their mothers when asked which health facility they have visited for health care always say they visited "Father pe" meaning "Father's House". 
The MP said this means the people of Bole patronise the Martyrs of Uganda Health facility for their health care and he as an MP appreciate the services the facility in Bole.
The Incharge of the Catholic church health facility Mr Francis Suntaa and another worker at the facility Mr Damba Rasheed received the items on behalf of the entire facility.
Mr Francis Suntaa said the entire staff is grateful for the support the former president has extended to them. He also thanked the MP for Bole-Bamboi who has always listened to their cry anytime they need his help.
He said they have been tensed up because they didn't have the equipment and the donation of the MP especially the gun thermometer came at the right time.
Mr Suntaa further said the MP has visited their facility more than expected to assist them.
The Parish priest of the Martyrs of Uganda Catholic church in Bole Justin Daanaah also commended the MP for always making himself available anytime they need his help and for projecting his moral picture for always utilizing and bring to his people what is due them.
He thanked the MP for the concern he has for his Constituency adding that they appreciate what the MP has been doing for them.
Present at the brief ceremony were NDC Executives for the Bole-  Bamboi Constituency led by the chairman Alhaji Amoro.
Source: nkilgifmonline.com