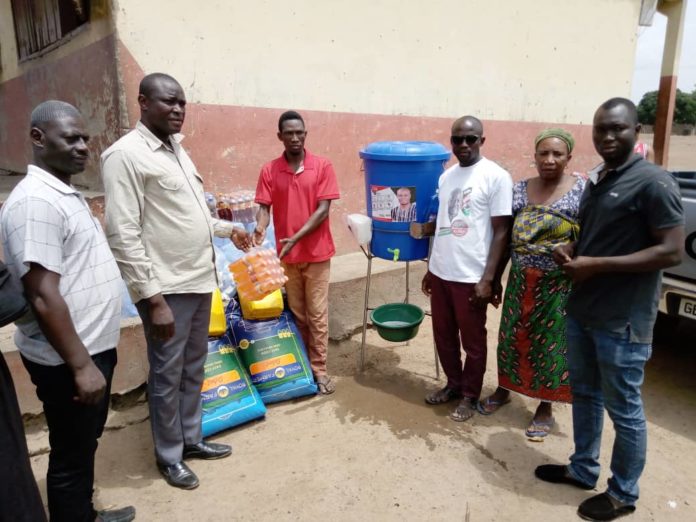 The Member of Parliament (MP) foe Bole-Bamboi Constituency Hon Alhaji Yussif Sulemana has donated two (2) bags of Royal rice, a Veronica Bucket, tripod stand, two (2) cans of oil, soap, fifteen (15) bags of sachet water, minerals (soft drinks), tissue papers, hand sanitizers and an amount of Ghc 200 to twenty one (21) quarantined 'Kayayie' young ladies from Kumasi.
The Bole- Bamboi constituency Secretary of the National Democratic Congress (NDC) Mr Ansumah Abdulai represented the MP and donated the items to the young ladies at Sonyo at a brief ceremony at Sonyo in the Bole District on Wednesday 1st April, 2020.
Speaking to Bole based Nkilgi FM, the NDC Secretary said; "though the MP is not at home he heard of the situation at Sonyo and donated the items upon hearing the quarantine of the ladies who are starving.
He said the MP is not happy of the situation because the Bole District Health Directorate should have provided some food for the young ladies".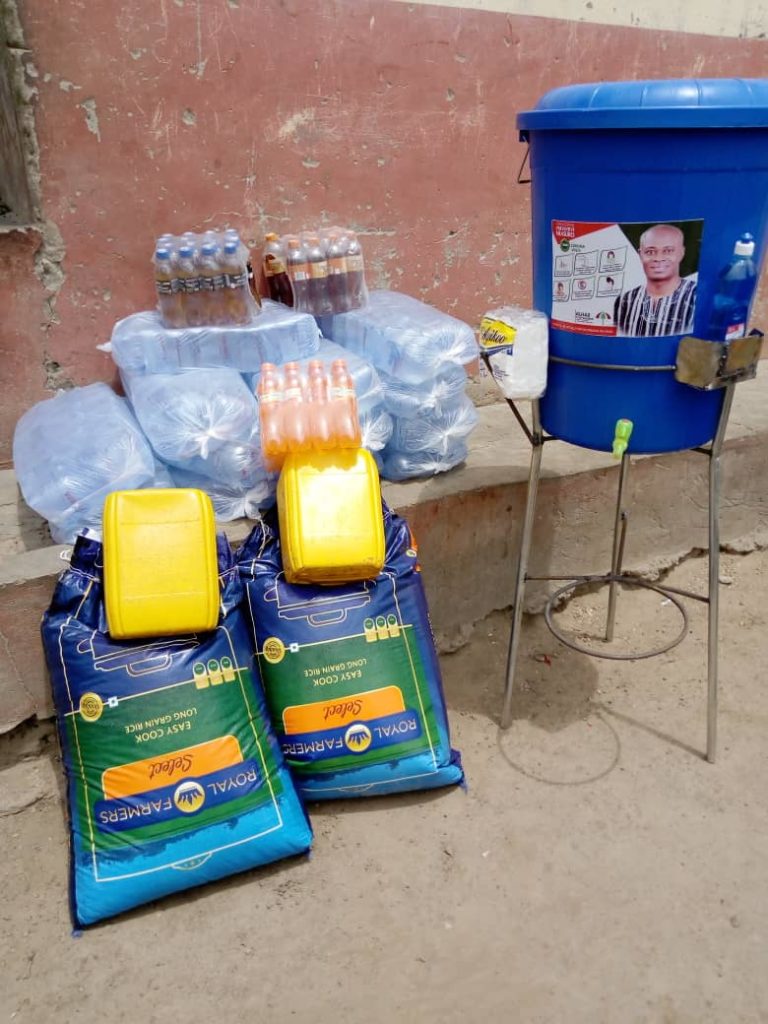 The Assemblyman for Sonyo electoral Area, Hon. Sarikyi Amadu Mohammed thanked the Hon member of Parliament , Alhaji Yussif Sulemana Ori for his donation.
He explained that they understand government do not to harm the people of Sonyo and that is the reason for keeping their sisters and mothers until fourteen (14 ) days as a way to safeguard the people in the community".
The Assemblyman said; "we are seeking for more help from the general public since government has not yet responded to the situation of the ladies that have been quarantine".
Speaking to Nkilgi FM at a distance, one of the quarantined ladies lbrahim Nafisah said the conditions under which they live is appalling. She said they do not get food to eat and portable water to drink.
She lamented that their children are afraid to come to them and that their parents can not visit them and the Health personnels who quarantined them in the school have no attention for them
Nafisah said; "we are giving them (Bole District health Directorate 3 days to attend to us or we will share the little food we have and go to our homes".
The Chief of the Sonyo Community, Sonyowura Kanyiti Bakari Adamu thanked the MP for Bole- Bamboi, Hon. Alhaji Yussif Sulemana for the support quarantined ladies.
He entreated the Sonyo community members to exercise patience until the 14 days quarantined period.
Source: nkilgifmonline.com