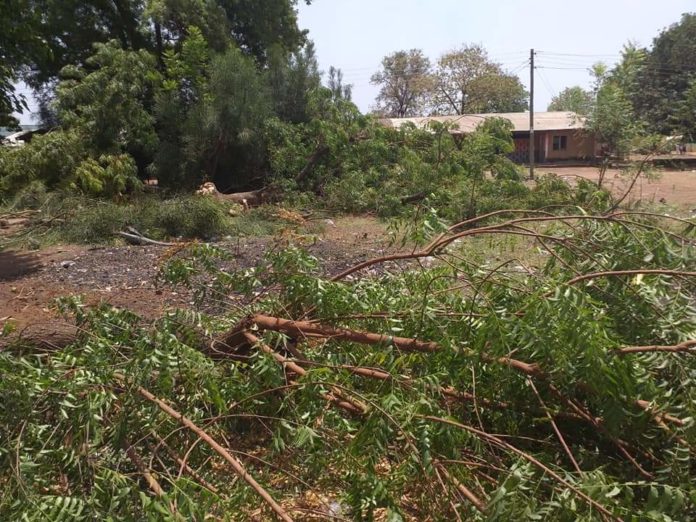 The Deputy Communication Officer of the National  Democratic Congress (NDC) for the Savannah  Region R.A. Jalil has alleged that the District  Chief Executive (DCE) for Bole, Madam Veronica Alele Heming has given out a government land in Bole town for the construction of a Constituency office for the New Patriotic Party (NPP) in the Bole-Bamboi Constituency 
In a statement copied to Bole based Nkilgi FM on 25th March, 2020, R.A. Jalil said the land under discussion is a piece of land right in front of the Ghana Education Service (GES) bookshop or Home Science building in Bole town.
Jalil said; "as we speak the land has already been cleared and the necessary land preparations are currently on going".
The Deputy Communication Officer of NDC for the Savannah Region said the self-centredness and grabbing of public property of the NPP right from their national level to the constituency is legendary.
"Why on earth will a  DCE who is supposed to be playing a motherly role be doing this to us? Her decision is tantamount to an abuse of office and a disrespect to citizens of Bole"; he bemoaned.
RA Jalil said the NDC may not be able to stop the construction of the office but the NPP should know that power is transient and so when power changes hands in future, and accountability is asked, the NPP should not blamed the NDC.
Mr Jalil however said; "Well meaning citizens of Bole should stand up and resist this unfortunate decision of the DCE and stop the construction immediately and I want to use this opportunity to humbly call on the chiefs, religious leaders, opinion leaders, Bole youth for development and all other youth groups of Bole to rise against this self-seeking decision of the DCE".
Reacting to RA Jalil, an NPP Communication Team member for the Bole- Bamboi Constituency who doubles as the Director of the Bole District National Disaster Management Organisation (NADMO) wrote; "The NDC party office in the Bole-Bamboi constituency was built on government land and NDC leaders have shared some government lands to themselves and have gone ahead to build residential apartments on them. You have just invited us to an area we will do name and shame those who grabbed Bole government lands including some leading members of your party".
Another NPP Activist and former Assemblyman for Mandari Electoral Area in Bole District Mr Saaka Dinona wrote; "The NDC built its Bole/Bamboi Constituency party office on government land in Bole and nobody complained, the NPP is building its Constituency party office on a supposed government land and the NDC is making noise about it. Is this noise not born out of jealousy? If the NDC doesn't want the NPP to put up its office on that piece of land, then they should also go and take that their office from that government land it has been built on, period".
Source: nkilgifmonline.com