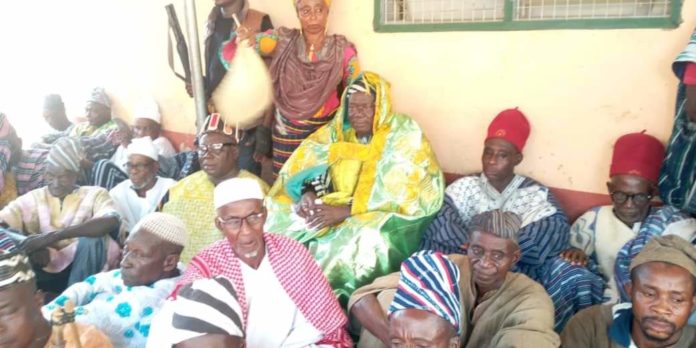 The Paramount Chief of the Bole Traditional Area Bolewura Safo Kutuge Feso (I) has banned all Traditional and public gatherings including including funerals, wedding ceremonies, naming ceremonies and all other social gatherings within his jurisdictio in the Bole Traditional Area.
The Bolewura made these comments during a stakeholders meeting on 24th March, 2020 between the Chiefs and Elders of Bole, the Bole District Assembly and the Bole District Directorate of the Ghana Health Service on how liase with each other to contain the deadly COVID-19 pandemic in Bole and it's surrounding.
Speaking to Bole based Nkilgi Fm, Bolewura Kutuge Feso said all must endeavour to obey the ban in the Bole Traditional Area to help prevent the spread of the coronavirus in his area.
He also said the security may likely intervene when people refuses to heed with the orders of the President of Ghana.
The Bolewura further said the people of Bole must take note henceforth that the Bole Central market of Bole has been zoned into smaller areas for marketing and that everyone must abide till further notice.
He therefore urged all market women coming from Sonyo, Kiape to stop at Bole Senior High School (BOSEC) and sell.
The Bolewura's order say people coming from Seripe, Lamporga, Kilampobile, Wakawaka up to Banda- Nkwanta should stop at Soldier Camp in Bole and that those coming from Chache, Mandari, Bale, Jentige, Nsunua, Chanchir and other communities from the Mandari road should stop at the Kurabaso Primary School and sell.
The Bolewura further said those from Sawla, Mankuma, Gbogdaa, Doli and communitues on the Wa road should stop at the Old PWD yard and sell.
Speaking at the palace of the Bolewura, the District Chief Executive (DCE) for Bole Madam Veronica Alele Heing rejected comments that the disease do not affect people in the Northern sector of Ghana due to the hotness of our whether.
She said; "People say our whether in the northern sector is very hot for that matter we can't be infected. Burkina Faso is hotter than Ghana, but people are infected there".
The Bole District Director of Ghana Health Service Mr David Bakuri said some people are misinterpreting the Presidents directives explaining that the President never said up to 25 people can gather for an activity.
He explained that what"the president meant is that during burial times you need not be more than 25 people. But people have reframed the President's statement just because of the own interest."
Source: nkilgifmonline.com