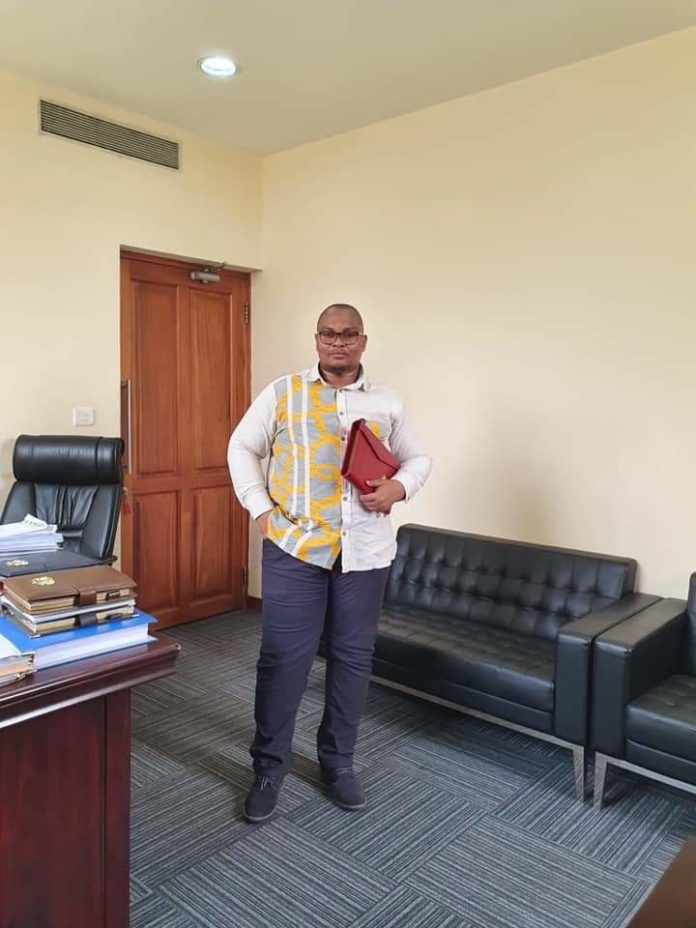 From Issifu Seidu Kudus Gbeadese
As I was enjoying my short break which I am yet to resume by end of March, I keep reading from all platforms including reading from individuals like Jojo EdinaManba Hughes, son of Former Speaker of Parliament under HE John Kuffour. I have followed this dude for sometime now, and I must say, the time is ripe for me to tell him a story. Dude has no shame to attack Former President Mahama when he's supposed to be hiding his face.
The elders in my village always put it better…"if you have a scar on your knee, don't throw the first blow on the elbow of your rival". I thought that the son of Right Hon. Ebenezer Begyina Sekyi Hughes will be humbled by the incidence of the past. But Junior Hughes has instead developed a hot tongue on the person of Former President Mahama and his family.
At this critical moment when the nation is battling with the deadly COVID-19, and the attended panic and fear in the system which is gradually bringing Ghana on its knees, one would have thought that Jojo Hughes who enjoyed from the sweat of the ordinary taxpayer at the time his father was the Speaker of Ghana's Parliament will put his social media handles educating people and wishing Ghana well other than using same to abuse HE John Mahama.
Only yesterday, 20th March, 2020, at about 6:45pm, Mr Jojo Hughes wrote on his Facebook wall…"why would anyone in his right mind want to be running mate to John Dramani Mahama". As if that was not enough for the day. Same guy again at about 9:45pm took to his Facebook wall with this unfortunate comment…"here's the bottomline in case you miss the memo: John Dramani Mahama is bad news."These are but very recent of a series of such direct personal attacks on the person of Mahama. This guy in the recent past has had reason to call Mahama and his entire family "thieves". I followed keenly such debates on his wall without a single comment. But all along, I thought his Father's embarrassment in 2009 will prick his conscience for once to reconsider his ways, but common sense has eluded this dude.
Well, if Jojo Hughes thinks 10 years is enough for sad moments of 2009 to fade off, I would like to remind him that we are living in a world where information is stored and can be traced and collected at anytime. Just type the name Ebenezer Sekyi Hughes on a google search engine and the news items that will pop up will include at least 2 or 3 news items that will offer us the link to the Former Speaker's unfortunate act of emptying his official Cantonment Bungalow of all its soft furnishing including chamber pots worth some 4.5 billion old cedis.
Mr Sekye Hughes was the first Speaker to have occupied that Cantonment Bungalow after he had spent almost 2 years in the State House while that Cantonment bungalow was being prepared for him. No wonder his claims on a letter written by his solicitors to the effect that the soft furnishings had suffered some appreciable wear and tear was dismissed by the Osei Kyei Mensah Bonsu led committee in Parliament. The said furnishings were still new because according to the Parliamentary Service Board, the Former Speaker hardly stayed in Ghana after 2006. So all fittings were still fresh and there was a 24 hour security and surveillance at the said residence, so no burglary or pilfering of such items could be reported.
It was big news on the 3rd of March 2009 after a team from the Parliamentary Service Board on inspection of its leaders official bungalows noted that, Right Hon. Sekye Hughes' Bungalow had been emptied of all its furnishings. Items such as gymnastic equipment, carpets, curtains, kitchen appliances like ladles, Morocco rugs among others were all taken away by the Former Speaker. This happened at the time the likes of Hon Kan Dappah had had to renovate his bungalow with his own resources before packing out.
This has not been a standard practice of his predecessors. Hon Justice D.F Annan on leaving office returned all items. Hon Peter Ala Adjetey who stayed in his own private residence was denied his rent after his private residence was furnished by the Parliamentary Service Board. Two former Clerks to Parliament, Messrs Samuel Ntim Darkwa and Rex Owusu-Ansah stayed in government bungalows but never ever received any fresh furnishings or its equivalent amounts in cash. So Mr Sekye Hughes, a Lawyer who was called to the Supreme Court as a solicitor in 1966, should have known that once there was no such internal legislation to legitimize his act, or a precedence to refer to, anything beyond returning those items amounted to "thievery".
It took Nana Addo-Aikins, Former Tribunal Chairman to formally appeal to Late Professor Mills to use his prerogative powers to stop the trial of Mr Ebenezer Sekye Hughes. This happened after the CID had invited him and commenced full-scale investigations into the alleged act of thievery. A daily graphic front page story by one Albert K. Salia on the 13th May, 2009, captured the details of the findings and recommendations made by the Kyei Mensah Bonsu's committee in Parliament. In that report, Mr Sekye Hughes was ordered to return the said items to the Cantonment bungalow.
This is the man whose son today refers to others as thieves. This Jojo guy should be told that, his father's past left indelible scars on his forehead, so anytime he attacks people in public offices especially the former President, some of us wonder whether he was ever told a story back home. You were brought up with the sweat of poor taxpayers. Your father embarrassed the Hughes family with that singular act, and the best you can do now is to preach the gospel and be modest with your public commentary in order to keep your father's skeletons in the closet.
Maybe we need to revisit the issue of the GHC 195,200 approval your father was alleged to have given as the Chairman of the Parliamentary Service Board for the procurement of items although, the said amount was never budgeted for in the 2008 budget. Were the items ever procured at all? As reported by one Abass Alhassan in the Chronicle of 20th November, 2009, Right Hon. Ebenezer Sekye Hughes was given a 10 day ultimatum to return all the items including chamber pots and curtains. Is Junior Hughes proud of this?
Next time you want to throw a stone at another, please watch whether you ain't standing by a glass.
21st March, 2020.