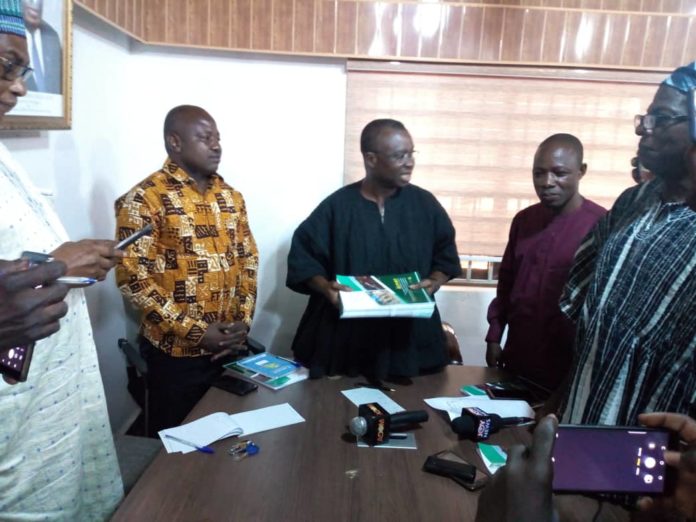 A Nine member committee formed by the Savannah Regional Minister to investigate the factors that militate against efforts to end illegal logging has presented it's report to the Savannah Regional Minister Hon. Adam Salifu Braimah at Damongo over the weekend.
The Committee recommended that; "Considering the level of destruction of the forest and vegetation resulting from the long period and extent of uncontrolled logging of rosewood and other spicies in the Savannah Region, a total ban on the harvest and export of rosewood should be enforced strictly and consistently".
The Committee also recommended "a Management Committee to be established by the Regional Minister and the Committee should include representatives from the Savnnah Region, the Regional Co- ordinating Council, the Gonja Traditional Council, the Gonjaland Youth Association, the Forestry Commission" and that the operations of the log processing factories at Yipala near Damongo, Busunu and Buipe should be thoroughly assessed and the necessary measures including closure should be conditions if they are found to have have failed to comply with the law.
The third recommendation of the committee is that "the Forestry Officers stationed at Yendi and who supervises the east Gonja Area should be investigated for their involvement in the harvesting of rosewood and other species of wood in the East Gonja Municipality particularly the Kulaw area and if found culpable should be punished accordingly".
The above recommendations were highlighted by a Member of the Committee and former Member of Parliament (MP) for the then Damongo- Daboya constituency, Hon. Sammy B.Wusah during the presentation of their report.
Hon. Sammy B.Wusah urged the Savannah Regional minister to study other parts of their recommendations which are not for public consumption and apply the right sanctions.
Hon Salifu Adam Braimah on his part thanked members of the committee and promised to study the report and make the appropriate recommendations with his team to solve the logging problem in the Savannah Region once and for all.
He said even though the task of the committee was very challenging, he is very happy at the end of the day, they had done a very good job that will help put a stop to the logging issues in the region.
Members of include the Deputy Regional Minister, Mr Samuel Yayu Tika, (Chairman), with membership comprising of the National Democratic Congress (NDC) Member of Parliament (MP) for Bole/Bamboi, Mr Sulemana Yusuf; a former Chairman of the Lands Commission, Alhaji Sadique Bakari Nyare; a former District Chief Executive (DCE) for Sawla-Tuna-Kalba, Habibu Muftawu representing the media and Chief Kpengrewura Karimu.
Source: nkilgifmonline.com/ Zion Abdul Rauf, Damongo.