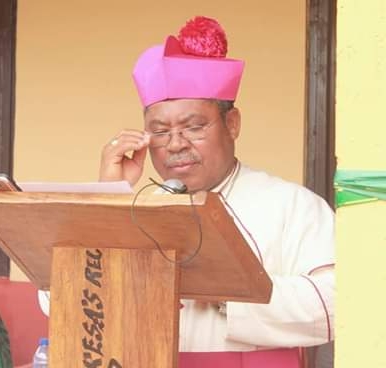 The Catholic Diocese of Damongo has launched  a regional Diocesan sensitization program on the referendum and election of Metropolitan, Municipal and District Chief Executives (MMDCE's) under the  theme; "Participation of political parties and citizens in district level election".
The programme which took place on Monday 4th November, 2019 at Damongo was organised by the Justice and Peace Commission in the Damongo Diocese and sponsored by the Konrad Adenauer Stiftung which is a German political party foundation associated with but independent of the Centre-right Christian democratic union.
The launch was done by the Bishop of the Diocese Most Rev. Peter Paul Y. Angkyier with the guest of Honour being the Savannah Regional Minister Hon Salifu Adam Braimah.
In his key note address the Bishop stated that the two issues which are the Referendum and the Election of MMDCE's have implications on the development of the communities in  the country and that this involve direct participation in political parties in local government election in the fulfillment of the 1992 Constitutional requirement for the electorate to approve or reject a question as to whether Article 55(3).
Most Rev. Peter Paul Y. Angkyier said the article is being amended to introduce multi partisan system into local level election which will make the MMDCE's more accountable to the people and will help citizens to be politically responsible.
He further stated that the Catholic Bishops conference are not happy about the situation in parliament between the two political parties and that the Bishops conference urges both parties to build a consensus by passing the bill with the two third majority in parliament needed.
Bishop Angkyier said the Tamale Catholic Province has established a project which offers an opportunity for Town Hall meetings to sensitize and to strengthen citizen participation in the local governance system.
The Savannah Regional Minister said the NPP government is committed to serving the people and so the the NPP government will engage the NDC on the issue of the referendum so that there will be a common ground. He said political parties are pretending that the District Aseembly Elections are not partisan and that both the NDC and NPP know those contesting for them in the District Assembly elections.
The Secretary of the National Democratoc Congress (NDC) for the Savannah Region Mr Salisu Be-Awuribe said the issue of the referendum is a weighty subject which will need a critical discussion and the NDC by the close of the month of November will come out with their national official position on the matter.
He said the NDC was the first to talk about the election of MMDCE's under former President John Evans Atta Mills who set up a Presidential commission to review the constitution of Gjna and the report that moving into the future the local government elections should be partisan.
Source: nkilgifmonline.com/ Gideon Adu