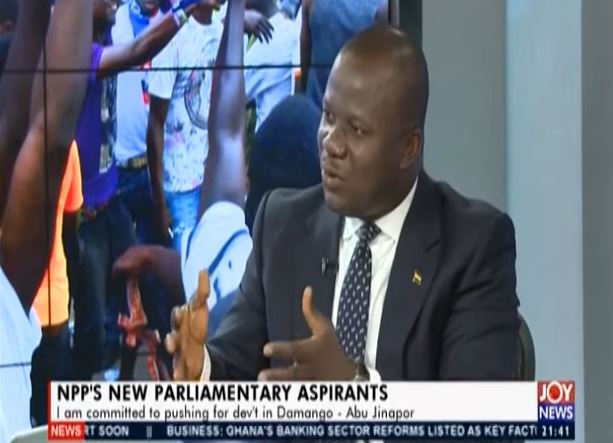 A Deputy Chief of Staff has defended his decision to run for Parliament despite occupying a privileged position presently.
Samuel Abu Jinapor said contrary to rumours that he is seeking insurance to remain in at least one arm of government should the New Patriotic Party (NPP) lose the Jubilee House in 2020, all he wants to do is serve.
He told Evans Mensah on JoyNews' PM Express programme on Wednesday, that he is optimistic that Ghanaian voters will give President Akufo-Addo a resounding victory in his second term bid come 2020.
"…And we will remain with him [Akufo-Addo] and serve in any capacity given," Mr. Jinapor said.
 A lawyer himself, Jinapor added that there are no impediments to serving as a Deputy Chief of Staff and a legislator.
He said it is tantamount to the position of a Minister who doubles as an MP.
Race to the Parliament
The Deputy Chief of Staff is running in the NPP's parliamentary primaries on September 28.
He is going unopposed in the Damango Constituency in the newly created Savannah Region.
"I owe a sense of gratitude to the people of Damango and to the NPP, I don't take that for granted at all, he says; emphasizing his running in the primaries unchallenged.
Already, Jinapor has facilitated and undertaken some developmental projects in the constituency and the region.
According to him, he is aware his core mandate as an MP – if he does win – is to represent the people in Parliament but he cannot turn a blind eye on development as well, having hailed from the community.
Should he win the primaries, Jinapor would face the opposition NDC's Adam Mutawaliku, who holds the seat presently.
Mutawaliku has held the seat since 2013, surviving the 2016 general elections by a little over 2,000 votes.
He is currently the Ranking Member on Parliament's Mines and Energy Committee.
But Jinapor is unfazed about his potential opponent's credentials, he is confident of taking him down in his own "backyard.".
Source: myjoyonline.com Oswald Azumah