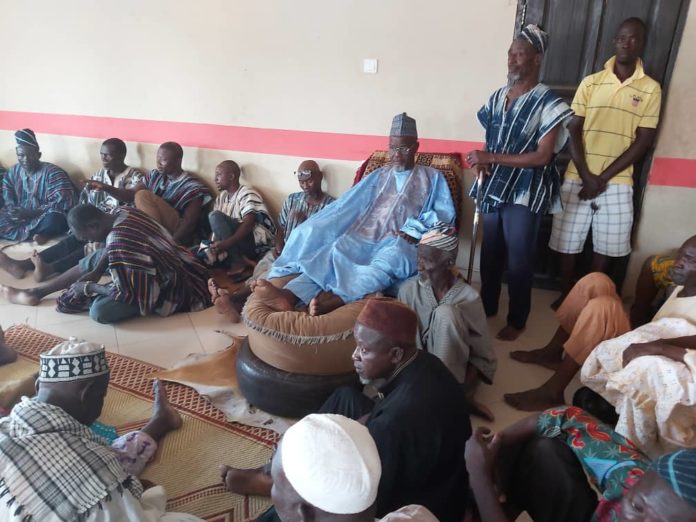 The Paramount Chief of the Wasipe traditional area, Wasipewura Kabasagya Anyame (I) has distance himself from the shooting incident in Lukula that led to the death of two persons.
Speaking at his palace in Daboya during a courtesy call on him by a team led by the Savanna Rrgional Minister Mr Salifu Braimah and the Regional police commander Mr Enock Adu Twum today 23rd August, 2019, the chief who spoke through one of his sub-chiefs, Manbolwura Adam said the Wasipe said the people of Lukula only run to Daboya in the course of the troubles and appealed for police protection for the chief of Lukula.
The Savanna Regional police commander, Mr Enock Adu Twum disclosed to the Chiefs and the people of Daboya that the two suspects who were arrested in connection with the killings were put before court yesterday in Tamale.
He assured the people of Daboya that the situation in Lukula is under control with a combined team of police and military personnel in the community.
The team after meeting the Chiefs and people of Daboya headed to Lukula to meet with the security personnel deployed to the community only to get stucked on the way because of the poor road network linking Daboya and Lukula.
The Savanna Regional minister said crime in the area is always on the rise especially at this time of the area because it is difficult for the security to visit the affected areas as a result of the bad nature of the road.
He has therefore assured the people of the North Gonja District of working on the road and also putting to use an abandoned police station at Mankargu in the district.
It will be recalled that on the 15th of August 2019 two persons were killed in the village of Lukula over the building of a Mosque in the community. This led to the burning of 34 houses in the area which saw the deployment of both police and military personnel being deployed to maintain peace in the area.
Zion Abdul Rauf (Damongo)/ nkilgifmonline.com