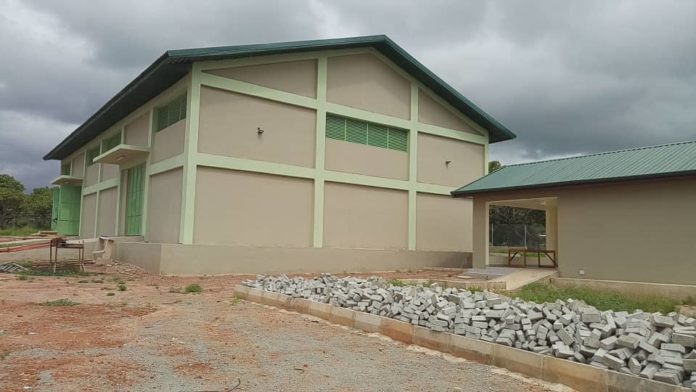 The District Chief Executive (DCE) for Bole Madam Veronica Alele Heming and other officials of the Bole District Assembly have commenced 'a two years in office of the DCE' tour to inspect completed and uncompleted projects yesterday 8th August, 2019.
The first point of call on day one of the tour was Chache a Ghana Cote d'Ivoire border community where the they inspected the local sheanut processing facility which was constructed by the Ministry of Environment, Science, Technology and Innovation (MESTI) in partnership with the United Nations Development and with funding from the Adaptation Fund Board in 2018.
This facility has a baking place, drying place, grinding mill, an oil extraction machine and many more.
Also at Chache, a buffer zone have been planted with trees to protect the environment and the community against heavy storms which is also funded by the MESTI Acacia Plants
At Kpenayiri and Goli, a three class room blocks which are completed and ready for use were inspected by the DCE and her entourage. Pupils of these communities used to sit under trees for learning but now have a furnished three class room block with toilets and a bathhouse were they can always urinate and also have double side verandas where children play during break. Enrolment has increased from below 60 over 200 students after the completion of the blocks. Same three class room block has been built for the people of Daboyiri.
At Mandari the DCE inspected renovation works of three class rooms block that had their roofs blown off during a heavy storm.
A market that has also been built for the people of Mandari to help facilitate daily market activities was visited. The market women and men expressed their joy over the market construction explaining that they used to carry goods around for sale which was very cumbersome but now every Sunday has been reserved as the market day for the community where many surrounding communities come to sell and buy.
In the Bole township, the DCE visited the Bole hospital where renovation works of the children's ward has been done making the ward now safe and conducive for admitting patients. Some of the nurses revealed that, they used to encounter snakes entering into the ward but now the verandas walls are raised and netted. Ceiling fans have been replaced, toys painted on the walls to entertain children.
The DCE visited a Muslim praying ground for Bole community. Muslims kept changing venues for festive prayers until the prayer was constructed with other facilities to be added.
The DCE ended his day one tour by visiting a warehouse which will help farmers within Bole and the surrounding villages to store their farm harvest for a longer duration.
Day two of the tour continues today Friday 9th August, 2019.