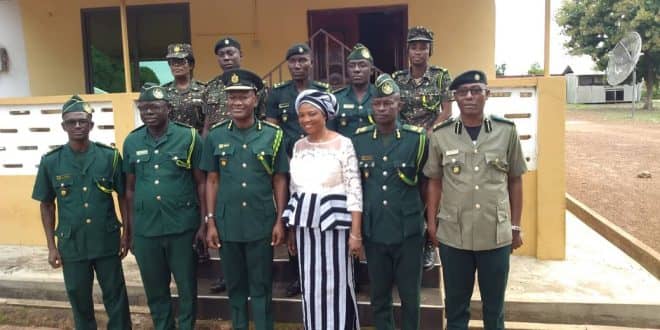 The District Chief Executive (DCE) for Bole in the Savannah region, Alele Veronica Heming has appealed to the Comptroller General of the Ghana immigration Service Lawyer Kwamee Asuah Tekyi to provide arms and logistics for the officers stationed at the Chache border in the Bole District.
She said the immigration service is the first security defense of the country.
She made this remarks when the Comptroller general of the Ghana immigration Service paid a courtesy call on her as part of his nine days tour of the Northern, Upper West, Savannah and North East Regions.
Madam Alele said " I pity the men at the border. Irrespective of their poor working conditions, they work their hearts out to ensure the security at the borders is not compromised "
She added that accommodation, Logistics and weapons are Paramount in ensuring the officers deliver.
"Let me say that the assembly is trying its best in provide little support to the officers but that is woefully in adequate to make things better"
She lamented over the numerous unapproved routes due to the poor working conditions of officers
On his part, Mr. Asuah Tekyi said is unfortunate to see officers working in such a porous situation.
He hinted the immigration service is working at improving working conditions of the officers.
"As I speak, we have procured weapons which will be in the country soon so I'm assuring you that things will get better in the coming days" he assured.
He however cautioned the officers to be discipline in dealing with the arms when they arrive.
Mr. Asuah Tekyi also indicated that officers who have been working for more than three years at their stations will be immediately transferred to other stations.
"The Accra people who seat in the Air conditions should be prepared to move to the interior borders"
The Comptroller general is on a nine days working tour to the border towns.
The aim is to get first hand information of the situations of officers at the borders and to also interact with them.
Source: Ghnewsroom24.com