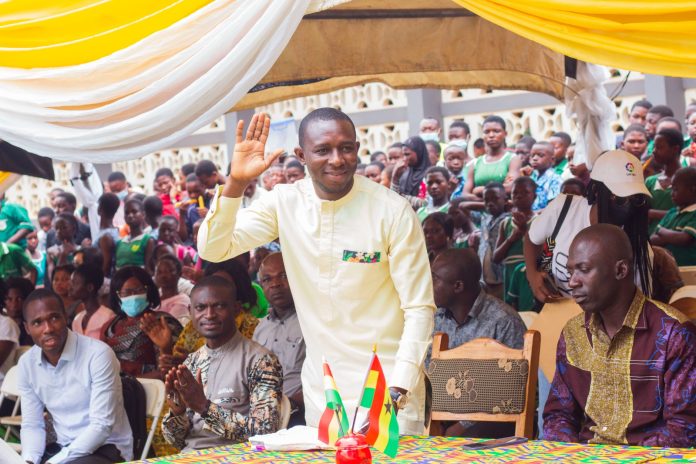 The Executive Director of Nasco Feeding Minds an NGO in the Sawla-Tuna-Kalba District of Savannah Region and an aspiring New Patriotic Party (NPP) parliamentary candidate for the Sawla-Tuna-Kalba Constituency Mr Banasco Seidu Nuhu has in a letter copied to Bole based Nkilgi Fm has expressed his deepest
appreciation to the Youth of the NPP in the Constituency for the incredible support showered upon his political
campaign to contest for the position of the NPP candidate in the upcoming NPP primaries.
Mr Banasco Seidu Nuhu who was the NPP candidate parliamentary for the Sawla-Tuna-Kalba Constituency in the 2020 elections said he has been truly inspired by the fervor and enthusiasm that
the youth have displayed and their unyielding spirit to bring about positive change to create a brighter future for the people of Sawla-Tuna-Kalba (STK).
He added; "It fills my heart with immense pride to witness how the youth of our town have united,transcending boundaries of race, religion, and social status, to embrace the common goal of progress and development. Your collective efforts have ignited hope and optimism among all generations, reminding us that the future is in safe hands."
Mr Seidu Nuhu said the involvement of the youth has not only rekindled his motivation but has also reinforced his belief in the power of grassroots movements, which is through the active participation of young minds like the youth groups that truly shape an area which thrives on inclusivity. prosperity, and sustainability.
He assured the rank and file of the NPP especially the Youth that their voices and ideas will always be heard because it will continue to influence his decisions and policies for the betterment of Sawla-Tuna-Kalba Constituency.
He admonished the youth to remember that this is just the beginning of a transformative journey,and they must stay committed to the shared vision as they tackle challenges and celebrate triumphs together.
The NPP aspiring parliamentary candidate, "I look forward to fostering an environment that encourages collaboration, innovation, and compassion.
I extend my heartfelt gratitude to each and every one of you,the youth of our town, for standing by my side, for believing in me, and for believing in a brighter future for al. Your generosity and support have touched my soul,and l am honored to serve as your representative.
With hope and anticipation."
Source: nkilgifmonline.com