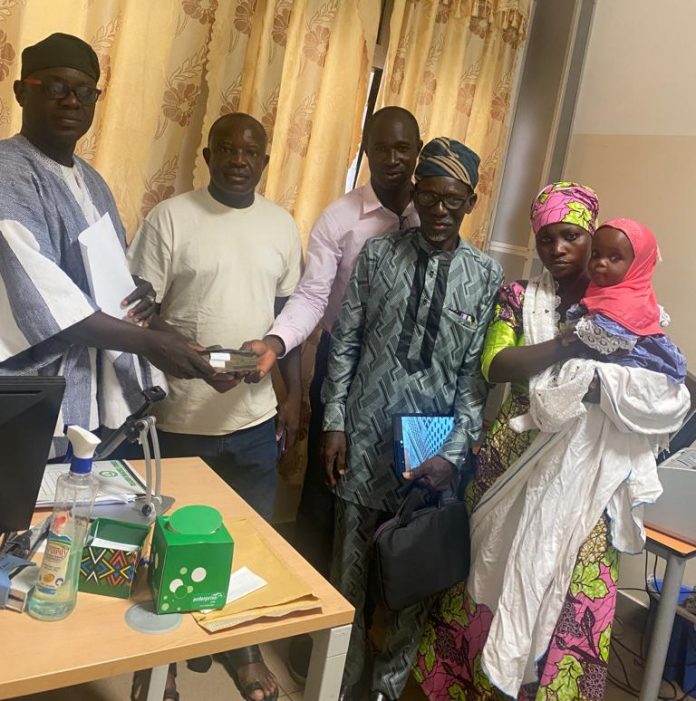 In a remarkable display of unity and compassion, Winning Life Chapell Buipe and Powered by Love Life School, two organizations led by Christine Moreel from Belgium and Mahama Fuseini from Ghana, joined forces to sponsor a critical surgery of Amama Baby, also known as Yahaya Hayat, a courageous child battling the challenging conditions of hydrocephalus and spinal Bifida.
The total cost of the surgery, amounting to GHc 21,100.00, represents a significant investment in restoring Amama's health and well-being.
The presentation ceremony held profound significance, serving as a powerful symbol of the collective dedication and unwavering commitment of all parties involved.
Leading the ceremony were Church Elders Braimah Wuripe, Pastor Issah, and the esteemed Mahama Fuseini, affectionately known as Mr Fuzzy, who had the privilege of presenting the sponsorship on behalf of Winning Life Chapell Buipe and Powered by Love Life School.
The importance of their gesture was warmly acknowledged and received by Alhaji Braimah Saaka, the esteemed head of the social and medical works unit at Tamale Teaching Hospital, (TTH). Expressing deep gratitude Alhaji Braimah conveyed heartfelt appreciation on behalf of Amama's family and himself.
He extended his sincerest thanks for the love and care shown to the little girl, acknowledging the organizations' incredible act of covering the financial burden of the operation.
This selfless gesture not only alleviated the family's financial strain but also provided them with renewed hope and optimism for Amama's future.
The sponsorship, totaling GHc 21,100.00, represents an extraordinary investment in Amama's well-being, underscoring the transformative power of unity and compassion.
With the successful surgery, Amama and her family can now look ahead to a brighter future, knowing that her health will be significantly improved.
The collaborative efforts of Winning Life Chapell Buipe, powered by Love Life School, and the dedicated individuals involved have left an indelible mark, showcasing the profound impact that collective action can have on the lives of those in need.
This heartwarming collaboration serves as an inspiration to individuals and organizations around the world, demonstrating that when compassion and determination combine, remarkable change can occur.
The story of Amama Baby's transformation stands as a testament to the power of community and the potential for a brighter future for those facing challenging circumstances.
Source: nkilgifmonline.com